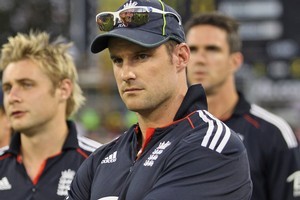 The sound of one man clapping.
That was the far from thunderous welcome home for England captain Andrew Strauss at Heathrow Airport at Tuesday lunchtime following his side's historic Ashes triumph.
"Well played Andrew, well played," said an excited elderly man in a red rain jacket at the drab Terminal 3 in front of a handful of supporters.
There were no sightings of flags and the only people in English kit appeared to be being paid to wear it in their roles with English cricket.
A couple of snappers and television cameramen were there to grab the arrival shot but most of the media were waiting at a nearby hotel for the arrival press conference.
The muted celebrations could not have been more at odds with the raucous, booze-fuelled celebrations that followed England's drought-breaking 2005 Ashes victory.
Legend has it that a sozzled Andrew Flintoff took a leak in the back garden at Downing Street and gongs were dished out to players like candy at a kid's party.
But Tuesday was very different to the open-top bus parade that attracted tens of thousands of jubilant fans to Trafalgar Square six years ago.
Strauss signed a few autographs but was far from pestered and flamboyant batsman Kevin Pietersen's forceful walk out of customs earlier on had suggested he had anticipated a bit more attention.
But the English public have moved on, it is now more than a month since Strauss's men wrapped up the 3-1 series win at the SCG.
"The reception is not important, that is not why we play cricket," Strauss said.
"All of us that have been involved in Ashes cricket know how difficult it is to win in Australia and therefore the achievement is special, regardless of what you do once the series is over."
Members of England's Ashes winning side have arrived home in dribs and drabs over the past four weeks and maybe beating the Australian cricket team isn't such a massive deal anymore.
England's limp showing in the one-day internationals, they lost 6-1, also took a bit of the gloss off the excitement levels in the Old Dart.
There will be no formal celebrations in England for Strauss' men as they squeeze in four days in their own beds before heading off to the subcontinent for this month's World Cup.
The sight of the first English team to win a Test series in Australia in a quarter of a century returning home to such indifference should act as a reminder to officials not to take marquee events for granted.
With three Ashes series packed in the space of 24 months between 2013 and 2015, Strauss said officials had to ensure cricket's most enduring rivalry lost none of its sparkle.
"I can understand the decision of cutting it away from a World Cup so we don't have the situation that we are in at the moment," he said.
"Obviously there is always going to be a slight caution that we don't overkill (the) Ashes series.
"It would be criminal to find ourselves in a situation where it is not so special."
- AAP