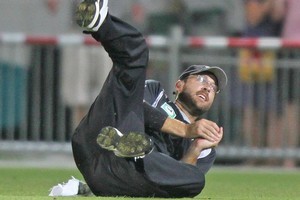 The Black Caps' rotation policy has been questioned by a former New Zealand cricketer following their latest ODI defeat to Pakistan.
New Zealand crashed to their 13th defeat in 14 ODIs last night in Napier and John Morrison says the approach of chopping and changing the starting lineup is not going to stop their current form slump.
Morrison, who played 17 tests for New Zealand between 1974 and 1982, says the side is running out of time to get settled before the World Cup begins later this month.
"The key to any side, even beyond cricket, is to be settled and to know where you are playing. The great cricket sides have always had very set batting orders. I still don't have a fix on what the hell they want," Morrison said.
"I'm not a fan of it at all because I think the key here, and it showed yesterday again, is to try and get your best top order and middle order settled.
Give them as much practice as possible.
The Black Caps have used 15 players in the opening four matches and more changes are expected for the must-win fifth ODI in Hamilton tomorrow.
Pakistan have used 14 players in the series but eight of those have played in all four games compared to six Black Caps.
"Now I know it's complicated by Jesse Ryder's injury and one or two other things but none the less it has been played around with and as a casual observer you'd have no idea what their favoured lineup is, Morrison said.
"You'd imagine the purpose of the exercise with this series is to be as well prepared as possible to play in India for the World Cup but after four games you'd have to say that hasn't been achieved in any way, shape or form."
Morrison also questions whether Daniel Vettori should have remained on the field after suffering a hamstring injury early into his opening spell in Napier.
Vettori was seen limping during the Pakistan innings but completed 10 overs picking up two wickets and took a catch. However it seemed the injury affected him in the later stages of the match as he struggled to chase down the ball from mid-off.
The actions of Vettori weren't missed by irate cricket fans on Twitter who felt the New Zealand skipper cost the side dearly.
"As much as I used to love him, Vettori was selfish tonight. If you're injured, go off, don't just stand there and watch 12 runs go past you," wrote Louise Pattison.
While Kurt Murphy Tweeted: "...If you're injured get the hell of the field instead of leaking runs and losing the match."
Vettori, along with opener Jesse Ryder, both face fitness assessments tomorrow and their availability for the fifth ODI will be made closer to the start of the match.
Morrison said Vettori could be looked at as courageous for staying on the field but the New Zealand coaching staff should have made the decision for him and pulled him off the field.
"There's two sides to it I suppose...I think it's a judgement position at the time and maybe he was very anxious to see the side win and felt responsible and so you give him credit for that.
"On the other side a captain or a player should always know whether he's doing his side a favour by staying out there or not. And we've seen many instances where players have stayed out there and hung on.
"I wouldn't accuse him of being selfish. He might have been a bit well-meaning but I think it lacked judgement as well because ultimately it let through the possibility of a couple of fours."
- Herald online