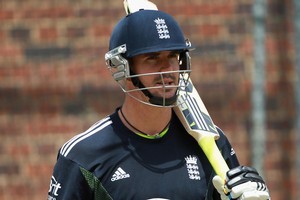 Kevin Pietersen has slammed England's "ridiculous" cricket World Cup schedule and boasted about showing Australia up this summer.
England will fly out for the tournament just three days after arriving back from the current tour of Australia, which began back in October.
With a protracted World Cup campaign to follow, should England reach the April 2 final in Mumbai they would have been away from home for all but those three days in 5 months.
"Our schedule is ridiculous going into this World Cup," Pietersen said. "It has been for England teams for a very long time and that's probably why England have not done well in World Cups."
The 30-year-old also blasted the format of the cup, which lasts six weeks, adding: "It's far too long. How can the England team play once and then in six days' time play again, and then in six days' time play again?
"It's ridiculous but there's nothing we can do about the schedules."
Despite criticising the scheduling, Pietersen believes after "showing Australia up" this summer, England have a good chance to win the tournament for the first time.
England have shown vast improvement in the limited-overs format in the past 18 months, during which time they have won their past six 50-over series as well as the World T20 crown.
"I think in all departments we've improved so much in our skills," he said.
"We've shown Australia up in a huge way. The difference in our bowling attack, to their bowling attack this summer, with reverse swing and the skill at which we've gone about our business.
"The batsmen have improved, the fielding is top notch, our catching is incredible, our bowling is so skilful."
* Australian captain Michael Clarke made a half century in a timely return to form to lead his team to a 51-run win over England in Brisbane last night in the fifth one-day international and an insurmountable 4-1 lead in the seven-match series.
Clarke top-scored with 54 in Australia's total of 249.
Chris Woakes took 6-45 to become only the second Englishman after his current teammate Paul Collingwood to claim a six-wicket bag in an ODI.
Woakes' career-best performance was then undermined by poor top-order batting which saw England dismissed for 198 in 45.3 overs.
- AP, NZPA