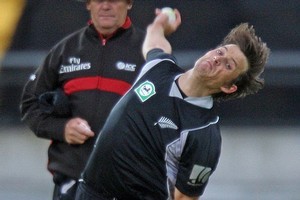 1. New Zealand's one-day international performances
The woes are well-documented but the impact on the country's fan base remains to be seen as New Zealand Cricket launches its home summer against Pakistan today at the revamped Eden Park.
Eleven straight one-day losses has left the team with a 30 per cent win record in completed matches this year (that's six from 20).
Add a fourth new coaching arrangement in just over two years to that mix and it justifies the team's ODI ranking of seventh.
A semifinal appearance at the World Cup would be a major achievement from here - though the talent exists to do so.
2. The love life of Shane Warne overshadowing the Ashes
He is the arguably the greatest bowler of our lifetimes but his dalliances - be they in text or in person - with Liz Hurley and Melbourne leather shop owner Adele Angeleri should not have threatened the Ashes series for news space.
That should have been reserved for his return to the test arena as a 41-year-old.
A Sydney Morning Herald article described Warne's status succinctly as, "the patron saint of blokes punching above their weight".
But he could take heed of fellow Australian entertainer Kevin "Bloody" Wilson in his relationship-counselling song "Warnie, put your wanger away".
His antics even had his mate and talkshow legend Sir Michael Parkinson advising him to tone down the "compulsive urges".
Still, Warne has always been the classic showman - the more people watching, the more he performs.
It can be no coincidence that his new television talk show Warnie launched at the same time.
3. The perpetual Ian Chappell/Ian Botham stoush
These two need to let this go ... discretion being the better part of valour and all that. It started 33 years ago during the Centenary test at Melbourne when an uncapped Botham, playing club cricket in Australia, was in the same bar as Chappell.
There was an argument and a scuffle - Botham claims it was "Pommie-bashing", whereas Chappell says he was taunted for retiring and not having the courage to tour England again.
This year, it reignited in the Adelaide Oval carpark. Chappell is alleged to have made a provocative remark as Botham waited for his lift ... then it was handbags again. Continuing feuds, be it out of bravado or revenge, are tiresome. Others defended the altercation because "neither are the type of people to give an inch in the face of conflict". Yawn.
4. India's extension of power
Fair enough, many will say. Once England and Australia exerted dominance over the game as world powers but the Indian juggernaut is now flexing its muscle at the expense of other International Cricket Council members. It is their time to shine but New Zealand still needs to sit with its hand out on the second tier.
The latest example is the payment to national governing bodies for the use of their players (10 per cent of their salaries) in the Indian Premier League. That encourages the governing bodies to avoid scheduling international series in April/May but means the ICC do not have to give special treatment to one national competition (the IPL) in the upcoming Future Tours Programme.
An independent ICC board, set up along the lines of the corporate world, rather than being based on nationality and bloc voting, seems a long way off.
5. Pakistan spot-fixing allegations
Nothing is proven but the claims of deliberate no-balling at Lord's in August have further underlined how vulnerable cricket is to being tainted by bookmakers for a quick - and almost guaranteed - dollar, pound or rupee.
Be it the number of times the bails come off or the number of caps left on fielders' heads, there is seemingly no way to outlaw the practice.
Having said that, if Mohammad Asif's no-balls are proven intentional at the next hearing in Doha on January 6, his faith in the umpiring skills was extraordinary. He only overstepped the popping crease by an inch or two.
6. Absence of Australian stars
Where have they disappeared to? If you look at the Boxing Day Ashes test four years ago, the names Justin Langer, Matthew Hayden, Adam Gilchrist, Shane Warne, Brett Lee and Glenn McGrath beam out from the Australian scorecard like cyberspace's answer to Warne's teeth.
Yet gradually they each retired, leaving a shadow of Ricky Ponting, a gutsy Michael Hussey, a tepid Michael Clarke and an inconsistent Mitchell Johnson carrying the team's reputation. Johnson rocketed them into series contention again with his six for 38 (including a spell of four for 7 in 27 balls) but they remain far from the convincing unit who rolled all before them earlier in the decade.
7. Shane Bond's retirement
Just as there was no successor to Sir Richard Hadlee for so long, there is no heir apparent to Bond. New Zealand fans have faced some ordinary days in his absence. Everyone has a favourite memory; mine was watching him take six for 23 against Australia at the 2003 World Cup in Port Elizabeth, from flukey corporate box seats that we backpackers had no right to be in. His rhythmic run-up was a pleasure to watch, as was the brief pause to plant the back foot, before he swivelled his back and shoulders to unleash deliveries in the 150km/h bracket.
It was a shame he played in such a small percentage of matches between 2001-10 because his presence was enough to drag people to the ground or anchor them to the couch. Perhaps the best statistic to sum up his career is a test strike rate of 38.7 balls per wicket. That is the best by a New Zealander and the third best in test history for recognised bowlers. His closest rivals in the modern era are South Africa's Dale Steyn and Pakistan's Waqar Younis.
8. Entertainment versus purism
Twenty20 remains the logical transition for cricket. The format continues to bring in crowds and maintain, if not increase, the fan base, while helping subsidise test and first-class cricket. T20 has revived the shorter format of the game in New Zealand.
However, part of this year's "Dear Santa" list for batsmen in the HRV Cup is that they remember where the off side is. How many matches are starting to look like beach cricket, as players wog across the line in the direction of cow corner? Next, the atrocious "my six is bigger than yours" measuring system will return. Sorry to sound like Grandpa, but whatever happened to a technically-correct, firmly-pushed quick single across the carpet to a player's weak arm in the covers. Those were the days ...
9. Fifty-over one-day internationals
Are these matches - and even the World Cup - starting to feel redundant in the modern era of either Twenty20 or test matches? If the current drop in the general cricket fan's attention span decreases, New Zealand faces co-hosting a lacklustre 50-over tournament with Australia in 2015. Once, especially in their 1980s-1990s pomp, one-dayers had context and regularly came down to some intense final overs. Now they tend to limp to predictable ends - regardless of power plays or free hits - with mandatory Mexican waves to lighten proceedings between overs 20-40 of each innings.
10. Jesse Ryder's whereabouts
Ryder has revolved in and out of the team this year, battling injury and booze. He has played in only 11 of New Zealand's 37 international matches to date, including just three one-dayers. On Tuesday, he again showed why the selectors persist with him, with a match-winning 86 from 47 balls to keep Wellington in the hunt for the HRV Cup.
But the battles are many. He scuppered his chances of touring Sri Lanka by failing a fitness test on his elbow after another stint on the booze at the indoor regional championships in Christchurch during July. He injured a calf on the tour of India and missed the one-dayers. He is said to have regained a reasonable standard of fitness.
Manager Aaron Klee said earlier in the year that he knows Ryder is "not going to turn into a saint instantaneously but no one is giving up on him". As arguably New Zealand's most adaptable batsman to all forms of the game, he will be welcomed into the World Cup team.
11. The demise of Lalit Modi
The chairman and commissioner of the Indian Premier League was stripped of his posts and suspended by the Indian board after the tournament final. He still faces allegations of financial irregularities which included rigging IPL bidding deals, offering bribes, betting and money laundering. Another hearing is due this week.
Modi remains defiant. That was probably best demonstrated by the 15,000-page reply for court officials and lawyers to wade through on his first appearance in the dock. Further down the chain, Chris Cairns continues to wait patiently for his chance to bring Modi to justice over match-fixing allegations against the former Black Cap all-rounder.