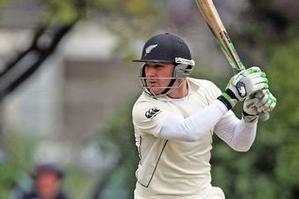 "There is nothing more difficult to carry out, nor more doubtful of success, nor more dangerous to handle, than to initiate a new order of things. The reformer has enemies in all those who would stand by the old order, and only lukewarm defenders in all those who would profit by the new" - Niccolo Machiavelli, Italian political philosopher in The Prince, circa 1532.
This statement was true then in Florentine government circles, it was true when Kerry Packer set up World Series Cricket in 1977 and it's true now with the arrival of Twenty20 cricket.
Setting up something new, which distributes wealth differently will find opposition from those from whom the wealth has been taken - and New Zealand cricket fans might pay by having to do without seeing the country's top players very often.
We sit uncomfortably on the precipice of an age when the redistribution of wealth in the game is likely to see top players follow the new money trail as freelance cricketers, instead of being attached to national contracts for representing the Black Caps.
As an example, Brendon McCullum's decision to play in this summer's series against the Australians cost him about US$350,000 ($483,000) in lost Indian Premier League (IPL) Twenty20 income.
It is difficult to see a scenario where top players will let opportunities like that slide too often, particularly as New Zealand players are paid less of a retainer than counterparts in many other countries.
In five years, when the World Cup comes to New Zealand for the first time in 23 years, fans may well be grateful just to see New Zealand's top players.
Like tennis players, sailors and golfers, New Zealand's top cricketers will more often than not be plying their trade in distant parts of the globe unless drastic compromise is reached with New Zealand Cricket (NZC) in the next few years.
The agent of change is Twenty20; a brash new cricketing format which is now, according to some, dictating to the sport as a whole.
A pioneer in this regard is allrounder Andrew Flintoff, who retired from tests and then went freelance to pursue IPL and other contracts. On the other side of the issue are two other England cricketers, bowlers James Anderson and Stuart Broad, who have committed themselves to the England team, eschewing IPL earnings outside the normal windows, at least until the next Ashes.
Going freelance doesn't mean that England will miss out entirely on Flintoff's services - he could still play for his country, by arrangement. But the likelihood is that a cricketer choosing this path will want to take advantage of revenue streams currently blocked by national team obligations.
There is little national bodies like NZC can do. The players are in a powerful position. NZC might feel aggrieved that they have spent time and money developing players only for their hand to be bitten.
But some of the pain may subside if they can profit from the return of prodigal players to spark interest in the game, gathering gate takings, sponsorships and broadcast fees.
It is unlikely NZC will enforce bans or penalties, nor would they want to force a 'them and us' scenario on players.
They won't be able to convince the ICC to change matters, as New Zealand's voice is not strong enough and the world body will be too busy fighting its own rearguard action for control of the game.
That's why Twenty20 is criticised for changing the playing spectrum; and why cricketers are blamed for chasing the money rather than having national pride.
But can the current difficulties be blamed solely on the top players? Should they suffer for their gifts? And is it possible to have all parties working in a symbiotic relationship with universal benefits?
NEW ZEALAND Cricket Players Association (NZCPA) boss Heath Mills believes there is a solution. But it comes with conditions. He says if the volume of international cricket can be limited; if there is an independent International Cricket Council (ICC) board where members are not bound by self-interest; and if players, administrations and tournaments are prepared to be patient until the current Future Tours Programme (the FTP, which controls and schedules international matches) ends in 2012, there is a chance.
For all three principles to co-exist is a big ask but Mills says it's a must for what is now a vastly different future to the game than was contemplated when the last FTP was signed off to start in 2006.
"First, and perhaps hardest, is the need to move to a more independent structure, where the people involved are not responsible for various member groups," says Mills.
"New Zealand Cricket is actually a good example; it's a fully independent board where the decisions are in the interests of cricket, not stakeholders, just like most successful businesses.
"The ICC management team is useful but can't enact solutions because of governance issues. Board members act in national or bloc self-interest, so you get decisions based on selfishness, not cricket."
NZC chief executive Justin Vaughan, often the New Zealand representative on the ICC Board, is also adamant about the need for a resolution and that there needs to be patience until the 2012 FTP is complete.
"All countries are facing similar issues: giving players chances to play Twenty20 tournaments and preserving international cricket's primacy, especially that of tests. We also need to ascertain what role and volume of 50-over cricket is required, given that's still our premium world championship. But bigger countries need to help, we can't do it alone.
"It's not a perfect system but you need to adapt. Having an extended FTP is good because you have more of a guaranteed income when sponsors sign contracts over a longer period. This serves us far better than year-by-year deals, for instance, which could create huge variations to revenue streams."
On that note, no ICC sponsorship relationship is perhaps as important as that with the global broadcasting partner ESPN Star Sports (ESS), from which a large slice of NZC income is derived.
"The ICC is contracted to ESS through to 2015, with at least one global event a year," says Vaughan. "There's talk about whether it's optimal to have an ICC event every year but NZC argues it is because we're dependent on the revenue. But it makes it slightly messy for setting up 2012-2020 windows with such contracts in place for tournaments beyond the current FTP."
Mills agrees it's good to get certainty for a period with cricket stakeholders - if you get the structure right. He says there are going to be continuing problems with the present system.
"The FTP 2012 decision is based solely around the international game, whereas it now has to mix in club franchise competitions - like a lot of other sports do, such as football. We need to recognise that fact so we're not pushing players into positions where they need to make tough choices.
"The ICC approach has been to just schedule more international cricket until it can fill up to 11 months of the year, which is ridiculous, but they see it as their main way of generating income. People are tired of that. Franchises are a good direction for the sport.
"The only way to move forward is through windows - and we need to be aware of more than just the IPL and the Champions League. The Big Bash in Australia and England county contracts need to be considered because they can also produce significant income."
Vaughan says innovations in the other formats of the game need to be borne in mind: "How does a test championship fit into the frame? We're conscious of how important that form of the game needs to be. Fifty-over cricket also needs to be put in context through a league or a final each year rather than series existing in their own right."
WHAT ANNOYS Mills most is hearing players wear the blame for wanting to make the most of their talents.
"I get frustrated with efforts to deride players. It's their careers and it's a simple fact of life that the rewards are greater through club franchise competitions. Players need to focus on those areas - but they're still keen to play for New Zealand.
"The answer is not to point fingers. We need balance by giving international cricket a window of seven-eight months of the year, then franchise cricket can make up the rest."
Vaughan says juggling the various ICC members' agendas to get windows into the itinerary is a struggle.
"NZC has been a proponent of these for some time but the question is: how big do they need to be? The Australian tour cutting across the IPL will be fine for our players this year but its timing still needs to be addressed."
The Australian tour Vaughan refers to happens in March and was a source of frustration for New Zealand's top players, such as McCullum. Contracting to New Zealand meant they missed out on around half their IPL incomes for the year.
The IPL runs from March 12 to April 25. The earliest the New Zealanders could be playing in the IPL, if the second test against Australia goes five days, is April 2. Hence the tense delay in signing central contracts while options were assessed.
It's unlikely such significant financial sacrifices will continue to be made. Mills says that's the reason players such as Daniel Vettori (Queensland) and Ross Taylor (Victoria) are seizing chances to play cameo roles in Australia's Big Bash competition. It means they could be eligible to take their skills to the lucrative Twenty20 Champions League in October.
"I don't see a problem with them signing up. We should be pleased our players are getting picked to play overseas rather than having them ridiculed. Every other contractor in any industry does that, so why not cricketers?"
Given New Zealand's top players are relatively vulnerable on lower central contract retainers than many of their international peers, Vaughan acknowledges the prospect of going freelance is a natural reaction from players after sacrificing the IPL cash to play the summer for New Zealand. He says it's not for him to judge players who take money from other freelance contracts.
So, before long, it seems freelance New Zealand cricketers will be a reality.
Certainly one of the contracts for this new elite band will be with their respective countries but other contracts will loom large with vast dollar signs.
National governing bodies will then have to decide whether they need those players, or can get by without them.
New Zealand cricket, unless it somehow develops an enormous boost in depth of playing stocks, will need them and will have to be happy with players having at least two masters.