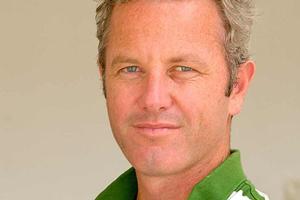 If this morning the Black Caps have been able to reverse their disappointing ICC tournament semifinal history and beaten Pakistan to move on to the Champions Trophy final, that will represent a significant achievement given recent form and perceived ability.
Making the final of any major tournament is nothing to scoff at but does making the final on the strength of three wins devalue this tournament? Maybe so but the brevity of this tournament is nothing but positive given the current trends in world cricket and memories of the interminable World Cup in the Caribbean.
There are no minnows in this current competition, just the top eight nations going at it. Split them into two pools and 15 games gives you a full round-robin programme, semifinals and a final all within a two-week window.
When you compare that to eight weeks of drawn-out dross in the Caribbean, it's a pretty good format. Where it may let itself down, however, is if it becomes very much a case of hit or miss and the eventual winner may not reflect form teams.
How quickly were South Africa, Sri Lanka and India lost from our screens?
It feels like there is not enough cricket in this tournament, which can't be said for the Twenty20 world champs. They were chock-full of cricket in an action-packed two weeks of excitement. With only eight teams in this tournament, maybe a full round-robin schedule where every team plays each other with an automatic final qualifier and a semifinal that sees teams two and three play off may be a way around the shortcomings.
But let's be realistic about what the Champions Trophy is. It is not the World Cup and neither should it pretend to be. It is important the World Cup is the ultimate cricket showcase - in the absence of a workable test championship, of course - but the Champions Trophy on the other hand needs be nothing more than a nice get-together between World Cups. So what's wrong with it leaving you wanting more? There is also nothing wrong with it offering a less-than-likely country the chance of the spoils.
The World Cup could learn plenty from the Champions Trophy. Where the World Cup appears to be hitting problems is in its desire to include minnow nations who do nothing but elongate and diminish the product.
I propose the World Cup follows the eight-nation, one round-robin format outlined above and the Champions Trophy be used to find those eight qualifiers.
This is the place to include the second-tier nations and, if the Champions Trophy becomes the vehicle for final World Cup qualification and seeding, we have a tournament of genuine meaning.
Including some minnows will elongate this tournament and thus detract from the quality of the product in its current form but if that is the trade-off for a World Cup that offers meaningful cricket from game one, then I'm prepared to make that sacrifice.