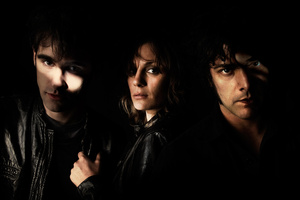 If you're wondering what it's like to enter a darkened pit of desperate depravity, Black Rebel Motorcycle Club will show you the way.
At Auckland's Powerstation last night, the San Francisco three-piece turned the packed venue into a grinding groove machine, confirming their reputation for being one of the most intense rock 'n' roll acts around.
Decked out in leather jackets and with smoke billowing over the blackened stage, the trio churned through much of their excellently warped new album Spector at the Feast, including the electric punk of Rival, Let the Day Begin's spiralling echoes, the surprisingly uplifting ballad Lullaby, and Hate the Taste's slow-burning hooks.
With small moshpits breaking out down the front and beer cups being thrown in the air, BRMC also delved into their back catalogue that's now seven albums deep, delivering murky riff-raking tracks like Spread Your Love and Six Barrel Shotgun.
You could accuse BRMC of operating within very small boundaries that are limited by Peter Hayes' gritty guitar riffs and Robert Been's bass theatrics, and things did get a little too dank and dreary midset with the slow-paced Fire Walker - a song depressing enough to make you want to enrol in fine arts classes.
But when they added harmonica breaks and sped things up to a rollicking footstomping pace, BRMC delivered two of the best songs of the night: Beat the Devil's Tattoo's gospel-inspired howl, and Ain't No Easy Way, which sounded like the soundtrack to the best Clint Eastwood Western ever.
You half expected him to kick the Powerstation's door down brandishing spurs and a couple of six shooters.
Sure, after 90-minutes of thrillingly bleak, chest-thumping rock 'n' roll infused with jackhammer strobe lights, an encore that included two low-fi acoustic songs - Complicated Situation and Shuffle Your Feet performed sea shanty-style around a single microphone - might have raised a few eyebrows.
Hayes and Been, who shared singing duties throughout the night, were so subdued they could barely be heard over the roar of the crowd, and the chorus of shushing that echoed around the venue made things even worse.
But they made up for it by signing off with the grungy bottom-end sludge of Sell It, and as the final searing riff rang around the Powerstation, a room full of lifetime BRMC members left sweaty, smiling and with ears which will be ringing for a long, long time.
What: Black Rebel Motorcycle Club
Where: The Powerstation, Auckland
When: Wednesday, November 20
- nzherald.co.nz