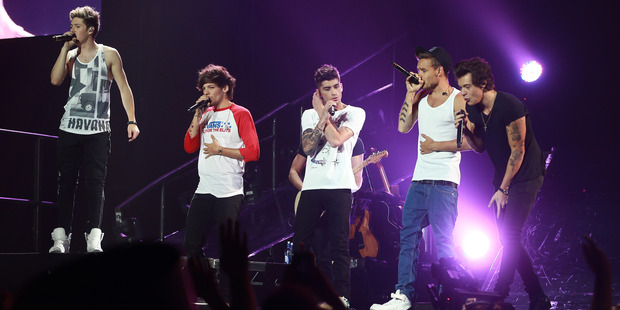 Maybe it's the catchy pop riffs? Maybe it's the cuteness factor? Perhaps it's subliminal messaging?! Ok, it's probably not subliminal messaging... Whatever it is, One Direction have it and it's making girls around the world go bonkers! Unsurprisingly, young Kiwi girls are far from immune.
Screaming tweens turned out in droves for One Direction's second sold out concert, at Auckland's Vector Arena. Brandishing signs and posters, some of which read "Niall, Irish you were naked", "Marry me Harry" and "Date me I'm a llama tamer".
The band has come a long way since their X Factor days and they seem to be right at home with their superstar status, but it's hard to believe that they would ever get used to the high pitched shrieks of their fans.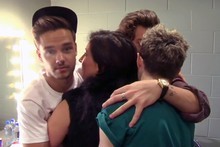 After a quick opening set from Aussi pop rock band 5 Seconds of Summer and about 30mins worth of ads for the 1D perfume, skin care produces & braces ...
Zayn Malik, Niall Horan, Liam Payne, Louis Tomlinson and Harry Styles of One Direction took the stage for, not only their last night in New Zealand, but also for the 118th show of their 'Take Me Home' World Tour, which started back in February this year.
The night kicked off with the energetic anthem Up All Night getting the crowd out of their seats. There is no doubt that these boys can sing. Their harmonies, for the most part, seemed effortless. There were a few moments where some notes were a little too high for Zayn, but he made up for it with an amazing vocal run at the end of Last First Kiss.
Midway through the enormous 3 hour performance, songs like Moments and Little Things felt like a nod to the 90s boy band stool ballads ... minus the stools. The 1D boys opted to sit on various parts of the stage while belting their hearts out.
In more upbeat songs like Kiss You and She's Not Afraid, the guys would skip or two-step their way across the stage, no synchronised dance moves in this boy band (except of course for their trade mark 'paddle the canoe' move during Live While We're Young).
That's not to say that they don't know how to get their groove on. Liam Payne pulled off some impressive splits, while Niall Horan was caught twerking more than once throughout the night. In fact, Niall and Liam were stand out performers the whole night, carrying the energy of the group, while Harry, Zayn and Louis often took a more nonchalant approach.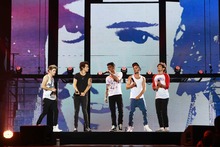 Moments between songs were filled with a lot of awkward, yet endearing, banter and improv songs between the lads. A memorable moment was when Niall confessed that he felt really manly due to his armpit hair ... to which Louis yelled to the audience "Give it up for Niall's armpit hair!" ... Of course the crowd went wild. It's quirky, goofball, moments like these that the fans love the most about their idols. The boys could have easily just stood on stage doing nothing but answering tweets from fans all night and their fans would have still left with smiles on their faces.
All in all it was a fun night and one the fans will have really enjoyed. I doubt this will be the last we see of 1D in New Zealand, with their third album Midnight Memories set to be released at the end of November, these five boys are bound to be back before we know it.