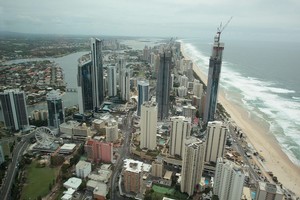 The Gold Coast will hold the 2018 Commonwealth Games after winning hosting rights from Sri Lanka's Hambantota.
The Gold Coast won their bid after a Saturday morning ballot at the general assembly of the Commonwealth Games Federation in the Caribbean nation of St Kitts and Nevis.
The 70 CGF delegates voted 43 to 27 in favour of the Coast.
Queensland's tourist strip will now become the fifth Australian city to host the Games after Sydney (1938), Perth (1962), Brisbane (1982) and Melbourne (2006).
Delighted Queensland premier Anna Bligh said she and the overjoyed bid team were extremely relieved after a week of lobbying.
"We've done a lot of hard work and it was very clear early in the week there was a lot of delegates who supported Hambantota and it would be a very, very close vote," Ms Bligh said at the assembly.
"The hard work has paid off."
The vote was seen as a head versus heart call for delegates with Gold Coast deemed a low-risk bid city while the Sri Lankans asked for a "life-changing opportunity".
Little-known Hambantota, which is rebuilding after being devastated by the 2004 Asian tsunami, had made a humble and dignified pitch to the CGF to help them in their massive regeneration program.
Record-breaking Test cricketer Muttiah Muralidaran was the headline act of the Hambantota bid team.
Muralidaran said hosting rights would transform his country like the 1995 Rugby World Cup changed and united post-apartheid South Africa under the leadership of Nelson Mandela.
In contrast, the Gold Coast delivered a slick and confident final pitch to the assembly that featured Bligh, Gold Coast mayor Ron Clarke, Australian president of the Commonwealth Games Association Sam Coffa, bid team chief Mark Stockwell and local schoolgirl Eve.
They highlighted it as an important strategic decision for the Federation following the difficulties encountered at the sometimes shambolic 2010 Delhi Games.
Coffa said the Gold Coast, with the bulk of their venues already in place, could be trusted to hold a successful event in April 2018.
"We need a great Commonwealth Games to guarantee the future of the event,'' he said.
"You can trust us with our knowledge, you can trust us with our experience and expertise to host (the Games)."
Gold Coast were the $1.50 favourites to win the bid with bookmakers.
Hosting the Games is expected to cost Queensland and the Gold Coast $1.1 billion while Hambantota, which boasted just one major stadium, had a budget of $652 million.
- AAP