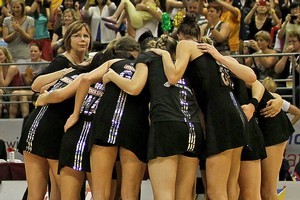 New Zealand coach Ruth Aitken is looking for a fresh influx of young talent as she readies for the next bout of international netball against England and Australia in October.
Her team are still in recovery mode from their single-goal extra-time world championship loss to Australia earlier this month, but Aitken is already planning strategies as she prepares for three tests against Australia and two against England.
Aitken has already lost Silver Ferns captain Casey Williams, who today confirmed her unavailability for the five tests as she prepares to sort out a long-standing ankle injury through surgery late in August.
Aitken said Williams would be missed, but the surgery - similar to that undergone by Silver Ferns vice-captain Temepara George last year - was essential.
"Casey's problem has kind of built up over the years, I think it was the one she first injured at the Commonwealth Games in 2006," Aitken told NZPA today.
"The surgery is a sort of cleanout from a build-up of bony tissue over time. It's probably the ideal time - she'll definitely be out for these two series, then she'll rehab back over the summer period and be good to go at the start of next year."
Aitken said no decision had been made on a replacement captain yet, but there was a wealth of experience available.
"I think we've got a lot of depth in terms of leadership - there's always been shared leadership within the team."
Aitken said the five tests provided an ideal chance to look at bringing through some new talent.
"We have to look at it as an opportunity to lay some foundations," Aitken said.
"There'll probably be a blend of some new talent, and some experience. Then once that final group is determined, it's just really about looking at how the game plan needs to change going forward.
"There will be new squad members named, and this will be a good time to revisit the basics, remind them about the skills and how we think the international games needs to be prepared for."
Aitken said it was important to make sure new squad members were prepared for the step up to international netball: "It's about ensuring we bring them up to speed, because there's a massive step up in intensity and it's a big jump for anyone new coming in."
Aitken said the world championship had been draining emotionally and physically, and players needed time away to refresh and recover.
"We're trying to give everyone some head space, then it's about picking yourselves up and getting back on the horse."
The new squad will be named on August 1, players will pick up their individual training soon after, then the team will go into their first camp early in September.
The Silver Ferns play England in Auckland on October 3 and Invercargill on October 6 before travelling across the Tasman for matches in Perth on October 23, Adelaide three days later and Melbourne on October 30.
- NZPA