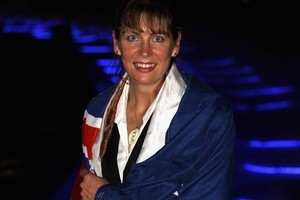 Commonwealth Games gold medal-winning netballer Irene van Dyk has revealed that her family was almost crippled financially by court charges this year.
Speaking in the latest edition of New Idea, which goes on sale tomorrow, van Dyk said Resource Management Act court action taken against her husband, Christie, came weeks before the Commonwealth Games and had the potential to be a huge distraction for her.
"When I played [at] the Games, that was the only time I wasn't thinking about what was happening on our property," former South African and Silver Fern veteran van Dyk told the magazine. "Professionally, 2010 was great; personally, it was a shocker."
Christie van Dyk was charged after clearing gorse from their 7.3ha erosion-prone property in Upper Hutt. The Greater Wellington Regional Council laid three charges against van Dyk and Earthmovers Wellington for breaches of the act.
Irene said they were forced to take out a $130,000 mortgage on their home to pay fines, lawyers and remedial costs.
They are still waiting for an all-clear from council.
The charges were laid four weeks before she carried the flag for New Zealand at the Games opening and after the gorse removal disturbed soil, unsettling and diverting water from stream beds.
"You think you've saved up a little bit, then something like this comes around and we've got nothing now," Irene said.
The saga took a toll on Christie's health, too.
"It was a genuine mistake; we didn't do anything intentional to hurt Mother Earth."
The 40-year-old Irene is nearing the end of her playing career but is gearing up for a season with the Waikato-Bay of Plenty Magic in the ANZ Championship, and hopes to be playing well enough to retain her goalshoot bib when the Ferns defend their world title in Singapore next July.
The Ferns won Commonwealth gold this year in an epic clash with Australia that went to two periods of sudden death.