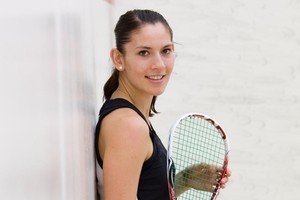 Life's a bit of a whirl for Joelle King these days.
Put that down in large part to a day at the Commonwealth Games in Delhi last month when the Cambridge squash player won the women's doubles gold medal with Jaclyn Hawkes, then the mixed doubles silver with Martin Knight within an hour or so.
It's an example of the pull some events can have over other, equally notable, achievements.
Until then, King, who went up to world No20 in a short space of time, was a rising talent in a middle tier sport in New Zealand.
She had won titles on the international circuit - significant achievements on what she hopes is a path to the top - but that's largely picked up only within the sport.
Delhi was different. It took King to a wider sporting audience.
Both King and world No13 Hawkes are, um, photogenic and there were no shortage of cameras clicking when they won their gold.
"You can do well in tournaments and be unnoticed, but coming back after Delhi people seem to know who I am when I walk down the street," King said.
"In Cambridge people come up and say how proud they are of me. As corny as it sounds, it's been a life-changing experience."
King - at 22 eight years younger than her former All Black brother Regan, who has been living in Wales for six years - was used to having her boyfriend, Ryan Shutte, and grandmother meet her at the airport.
After Delhi the welcoming gathering was substantially larger, "and it's been full on ever since".
King can trace her rapid rise to December 2008, and a conversation with the country's greatest squash player, Dame Susan Devoy.
She had finished third in the world junior championships a year earlier in Hong Kong, so talent wasn't an issue.
Devoy was managing the New Zealand team at the world teams championships in Egypt. The Dame has always been a straight shooter.
"She's a tough lady and she pulled me aside and said 'have you looked at these other girls and yourself?' She said 'you've got the potential to do this, so do it'.
"Something flicked the switch. I thought maybe I could do this, and once I finally decided for myself it changed everything."
She began working with another former New Zealand champion, and Games medallist, Leilani Marsh, improved her fitness with her Waikato trainer Jason Wheadon, lost weight, changed her body shape and hey presto ...
Within a few weeks from May last year, King won the New South Wales and Victorian titles, and the Australian Open, beating world No7 Kasey Brown and No14 Annie Au on the way.
She thought, "Ooh, this hard work has paid off, and it definitely changed me as a person, and my game."
This year came her biggest professional victory, beating world No5 and top seed Rachel Grinham to win the Texas Open in Houston. King was unseeded but won in four games.
So, Texas or Delhi. Which ranks higher?
"That [Texas] was a big point in my individual career. That is the biggest tournament I've ever won.
"But nothing can beat the experience of winning gold and silver in Delhi," King said.
That led to winning the Waipa sportswoman of the year award this week, continuing the rise of the girl who started playing at 10 - 'Mum used to play so I got dragged along" - and is aiming for the top.
Her coach, former international Glenn Wilson, is in Montreal. King has noticed the difference in her form between when she's had a good spell with Wilson, against those times she's on her own.
So next year, after Christmas in Wales, it will be off to Canada for an extended period with Wilson.
"It's just the reassurance. Other girls have one-on-one coaching all the time, so it's pleasing to have got this far on my own and exciting to think what can happen when I do have more time with him."
Since Delhi there have been tournaments in Hong Kong, where she lost in the final to Au, and Qatar, when she was beaten in the quarter-finals by 17-year-old Egyptian Nour El Tayeb, the world No35.
King has a way to go yet. Malaysia's Nicol David is the game's supreme player, near unbeatable for several years.
When the new rankings come out next Wednesday, King expects to be up to about No 17. But she's loath to set specific goals.
"If you start setting goals it can be quite depressing. But one in the next 12 months is be in top 10." And from then? "Onwards and upwards."