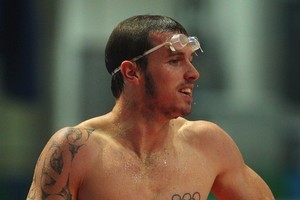 Delhi silver medallist Daniel Bell was the only swimmer nominated for the New Zealand Olympic Committee's scholarships to the London 2012 Games - something that has not gone down well with some of his team-mates.
Bell was one of New Zealand's leading lights at the Commonwealth Games, earning one of four silver medals in an improved showing by the team. As such, he would naturally be a contender for the new scholarships - designed to give extra support to young and promising athletes regarded as likely medal hopes for London, across several sports.
The NZOC is set to announce the new scholarships this month and Bell, as the only swimmer nominated by Swimming New Zealand, could benefit.
That has not sat well with some in New Zealand swimming. Bell was back in alcohol-related trouble in Delhi and other swimmers did not even know about the scholarships, leading to claims of preferential treatment.
"He was the only person who even knew about the scholarship," said one national swimming source.
Others who might have been considered included fellow silver medallists Gareth Kean (200m backstroke) and Glenn Snyders (50m breaststroke).
One of the reasons advanced for Bell's preference is that he is sponsored by Arena swimwear, a key SNZ sponsor.
However, most current national swimmers prefer other brands, such as Speedo. Some felt that was why Bell was the only swimmer to be told about, and nominated for, the scholarships.
The scholarships are expected to be valued at around $20,000 and are over and above the Sparc funding already in place for the 20-year-old and other athletes.
The scholarship nomination comes on the back of another Bell indiscretion due to alcohol at the Delhi Commonwealth Games.
Bell was sent home after what was originally said to be "a couple of beers". But he allegedly drank heavily at a party in the village after earning a silver medal in the 100 metres backstroke.
That breached the SNZ zero-alcohol tolerance policy set up because of Bell booze binges at the Beijing Olympics and last year's world championships in Rome.
Swimmers contracted to the national body are not allowed to "speak to any media in a negative way regarding Swimming NZ Inc" as part of their code of conduct, so none are prepared to go on the record.
One source told the Herald On Sunday Bell had "a good heart" and was "a real talent" but an "inner arrogance" got in the way of his capabilities.
The source stressed Bell's confident nature helped him with his self-belief, a quality often required for athletes to succeed at the top level.
Another swimming source said Bell had been given a huge amount of slack and had developed a "so-what? ... They-are-not-going-to-do-anything-to-me attitude".
Those approached said SNZ needed to take a stronger stance to at least get Bell some behavioural help so he could deal with the urge to drink and thus break his contract.
SNZ has not taken any penal action against Bell after the latest incident other than to send him home from the Games early. They have reiterated their zero-tolerance drinking policy on tours and training camps for the future.
SNZ chief executive Mike Byrne, asked about the claims of preferential treatment, said: "Not at all. It is SNZ's prerogative to determine what the disciplinary action is and to take it - and we have done that."
Bell is now training for the national short-course championships to be held this week in Mt Maunganui.