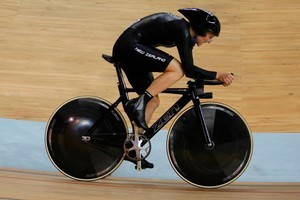 Last week, the Herald on Sunday outlined how New Zealand's last two Commonwealth Games have disappointed and compared our sports funding to Australia's. This week: Is New Zealand going the right way about winning medals or are we slipping further behind Australia?
New Zealand has to improve its "rats and mice" sports funding if it is to win more medals at Commonwealth and Olympic Games.
That's the view of former Sports Minister, now Opposition spokesman, Trevor Mallard, asked for his perspective on two average medal hauls by New Zealand at the Delhi and Melbourne Commonwealth Games.
Mallard was one of many contacted about New Zealand's recent performances, including sportspeople, administrators and Sparc insiders, who had to remain anonymous.
Questioning was aimed at whether our current Sparc high performance system is working and whether Government funding, Sparc's allocation and governance of those funds, sports bodies and athletes are gelling as well as they might.
Main findings were as follows:
* More money was required to fund top sport and gain better results.
* There is a lack of top people as sports CEOs and high performance managers.
* New Zealand lacks in athlete talent identification.
* Allocation of funds - more focus is needed to channel more funds to athletes more likely to succeed.
* Concern that Sparc, with its role as a gatekeeper of funding, may be creating a situation where athletes and sports bodies are so keen to attract funding, they alter behaviour away from that needed to win medals towards that required to win funding.
Some positive themes emerged:
* Most sports bodies and administrators rate the Minister of Sport, Murray McCully, as a man who understands the issues and who has successfully found, retained and increased sports funding, as did his predecessor, Trevor Mallard.
* There is general agreement that the model of Sparc allocating funds to be used by high performance directors to develop key athletes in key sports is the right one. All recognise the need for more money - but there is general recognition that financial realities preclude against the multi-million dollar system adopted by the Australians; not to mention the vast "bricks and mortar" of the Australian Institute of Sport.
MONEY
Australia now pours A$190 million into elite sport per year, including a new package of $120 million over the next four years - precipitated by worries from Delhi; Australia's worst haul at a Commonwealth Games since 1978 (even though it still topped the medals table).
New Zealand puts $42 million into it, rising to $52 million next year and $60 million for 2012.
"There was quite a growth of money over a five- or six-year period," said Mallard, "but it plateaued when we were in Government and under this Government.
"It is my view that we have to try to stay close to the pattern of expenditure of the likes of Australia and England to advance.
"The money involved [in funding top New Zealand sport right now] is actually pretty tiny, if you look at the overall Government budget.
"Education has a $10 billion vote - sport gets an odd bit of extra money here and there but, really, it is rats and mice; small change.
"It has become a bit of a tradition for politicians to link themselves to Kiwis who do well - but we don't actually do the work on systems and money that is needed to ensure success.
"What is needed is a senior Minister - and even though McCully isn't ranked high, he is still regarded as senior - who can convince the Prime Minister that more is required."
Sparc insiders said that "at least double" the current funding was required for New Zealand to pick up more medals at Olympic and Commonwealth levels.
ALLOCATION
All parties spoken to felt there was a need to focus more sharply on how and to whom sports funding was made available.
Sparc insiders felt there was a danger the current system of Government funding going to sports bodies and then to athletes through high performance managers could be flawed.
As sports became more able to play the system, there was a danger, said one, that sports and athletes were becoming more adept at "doing what is expected of them by the funders and not what is best to win medals".
One example of how sports could manipulate the system was Sparc's now discontinued policy of forecasting medals they expect to win at Commonwealth and Olympic Games.
It was axed after the predicted 45 medals in Melbourne in 2006 became only 31.
"We learned a lesson after that," said a Sparc source. "The sports talked themselves up and we took them at face value. Now there is much more objective assessment."
The Herald on Sunday understands Sparc made an internal, unpublicised forecast for Delhi this year - and got it dead right at 36 medals.
"I think that is a real concern Sparc has to look carefully at - to make sure the system is actually achieving its objectives and that people aren't just working for their own ends and cementing their own positions," the insider said.
Mallard said there was still a feeling in many sports bodies that participation in an Olympic Games, for example, was still a goal in the eyes of many sports bodies. The real goal, he said, was medals - but there were still efforts by many sports bodies simply to get athletes to the Games, as opposed to taking those with realistic chances of success.
"We are still promoting people as liable to do well and get into the top eight in the world, for example," said Mallard. "But when it comes to the crunch, they finish 12th.
"To get them there [to a Games], there will typically have been a tour of Europe or something like that but nothing ends up being achieved except participation - which is not the role of Government funding.
"I think it's time that the Olympic and Commonwealth Games people started to look to private sector money as well for sponsorship - not just Government funding. Government funding should be about winning medals, not participation.
"I think we take too many people away to Games, both athletes and hangers-on, and by shortening the list, we could make the funding go further for those with realistic chances."
Mallard also said team sports were a vast drain on resources because of the overall expense.
"I think hockey will be a real test case for Sparc this time," he said, referring to the fact that both men's and women's teams medalled in Delhi but would face a battle to do so in London 2012.
"It's not like netball and sevens rugby, where their campaigns were pretty much world championships [in Delhi]," he said.
TOP PEOPLE
All those spoken to talked of the need to find greater talent in CEOs, high performance managers and coaches. All regarded it as a chicken-and-egg situation revolving around more money. Australia's greater financial resources, for example, allowed them to hire world leaders in all three fields.
"I do not think we have enough top people," said a Sparc insider. "At the end of the day, there is no perfect answer and we do have some good people - Mark Elliott [high performance manager for Bike NZ] is an example. But we need pathways and systems within sport to find people and get them in."
TALENT IDENTIFICATION
Sparc sources said talent identification was an area where New Zealand was a long way behind Australia.
"We still tend to hope that our talent just comes along naturally and then we grab it, knock the rough edges off and fund them," said one insider. "The Australians have far more resources, financially and personnel-wise, and they capture a lot of their athletes young and develop them well; far better than we do."
Finding cross-discipline athletes like Alison Shanks (netball to cycling gold medallist) was improving in New Zealand but we still lagged far behind Australia in the identification of sporting talent which could succeed in another sport.
POLITICAL INTERFERENCE
Sparc insiders and Mallard both mentioned separately the hands-on role of Sport Minister McCully.
There is no serious contention that such an approach is costing New Zealand medals - but could be playing a part in sports becoming more adept at playing the system.
One source said: "There are very few things that happen [in elite sport] that do not come from his office. But when you look at things, his fingerprints are never on them - but you didn't hear that from me."
Mallard, who offered this view without being told of the above said: "He is well known for interfering with sports bodies. You can't do that as a minister. Sports used to come and see me and try to get me to change Sparc's mind about funding and I used to tell them to piss off.
"You can't work it that way. You have a [Sparc] board and they empower people to make the decisions. No minister can do better than that. If you are consistently getting the wrong decisions made or not getting results, then you might look at firing the board."