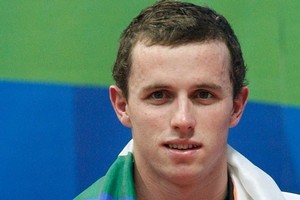 Swimming New Zealand's Jan Cameron is adamant no further action will be taken with Daniel Bell, the swimmer sent home from the Commonwealth Games for breaking the team's strict zero-tolerance alcohol policy.
Bell, the Delhi silver medallist in the 100 metres backstroke, allegedly had just "a couple of beers" after competition.
"It's all finished, it's time to move on," said Cameron, SNZ's general manager of performance and pathways. "Daniel got sent home early. [He] Broke a rule, had the consequence, end of story.
"He's free to swim from here on in. He's back in the group, there's no news. It's dead. I don't know why it keeps going. There must be nothing on to do with the All Blacks, Kiwis or whatever."
The reason it keeps going is that it is the third time on an overseas tour Bell has been involved in an alcohol-related incident. After winning his silver medal in Delhi, Bell appeared on New Zealand television, talking about his new maturity after those incidents.
Fellow Kiwi swimmers Dean Kent, Corney Swanepoel and Cameron Gibson were expelled from the team and the athletes' village at the 2008 Beijing Olympics after taking a photo of a drunk Bell on a toilet at a social function. Then last year the 20-year-old was admitted to hospital in Rome suffering from excessive alcohol intake after the world championships.
Bell is also a candidate for New Zealand Olympic Committee scholarships set to be announced next month to help athletes fund their way to the London 2012 Games.
The Herald on Sunday spoke to outgoing NZOC Secretary-General Barry Maister who is in Acapulco, Mexico, as part of the biennial Association of National Olympic Committees conference. He has been travelling since the Commonwealth Games and was disappointed to hear the news.
"Daniel has had an interesting past but hopefully we can turn that around," he said.
Cameron's comments also do not mirror those of SNZ chief executive Mike Byrne who said last week he is seeking a formal meeting with Bell so the problem does not recur. Byrne could not be contacted for further comment, nor could Bell's coach Scott Talbot.
Cameron insisted there is no scope for further investigation: "[SNZ] Never said that, that's all some talk from somewhere. It is all resolved, he's paid the consequence."
The New Zealand team's chef de mission in Delhi, Dave Currie, was reluctant to discuss the matter further, especially the prospect of Bell transgressing again.
"What I've said consistently is that swimming took action on it.I had no input on it at the Games. I'm pleased they took the action they did. I'm delighted the sport is listening and has taken responsibility."