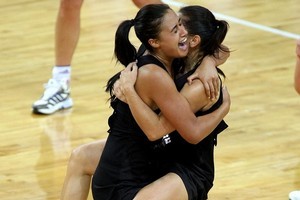 I love the airport arrivals hall.
It could be that I've been unduly influenced by sentimental films such as Love, Actually which depict the arrivals gate as a place of joyful anticipation and tearful reunion, where families come together in a flurry of hugs and shrieks, and lovers reunite with inappropriate public displays of affection (while standing in the most inconvenient place possible, oblivious to the log-jam of fellow travellers who cannot pass).
It's not all pashes and presents, though. It can be a terribly depressing and impersonal place.
There's always some poor sod frantically scanning the crowd for loved ones, only to discover the useless blighters are late. Then there are over-travelled businessmen, who stride through the sliding doors, give one of the waiting board men a curt nod and are whisked away amid polite inquiries about the flight and what the weather has been like where they came from ("much better than it is here, thanks very much").
But there was no chance of that happening to New Zealand's returning Commonwealth Games heroes on Saturday. Homecomings are always glorious when you have medals around your neck.
As our athletes emerged bleary-eyed through those sliding doors in the arrivals lounge there was no hand-wringing evident from fans over a disappointing medal tally.
Instead the atmosphere at Auckland International Airport, where hundreds of family, friends and supporters had gathered to welcome the Kiwi Commonwealth contingent home, was one of celebration.
There were heartwarming scenes wherever you looked: the shock on the athletes' faces as they emerged to rapturous applause; proud parents embracing their children, who also just happen to be world-beaters; and athletes reunited with their children after a long campaign. Love, it seemed, was all around.
The "Golden Ferns", whose epic double overtime victory against Australia thrilled much of the country, were undoubtedly the stars of the show - earning the biggest cheers of all.
Which begs the question, had the Ferns not finished the Games on such a dramatic high, would we have been so positive about the efforts of the New Zealand team in Delhi?
Being nobbled by Australia after letting a seven-goal advantage slip in the final quarter would have most definitely left Kiwis Delhi belly-aching.
A missed shot, a poor pass, a dodgy umpiring call - depending on whom you talk to - all made the difference between gold and silver in the netball final. In this case it was also the difference between lifting the mood of the nation that had heard Advance Australia Fair so often over the past two weeks they were inadvertently humming it in the shower, and sending the country into a funk about the state of our sporting prowess.
Which just goes to show how fickle we can be as sports fans.
But even when you look at the bald facts, it is difficult to get a feel for quite where the team's performance in Delhi sits on the success scale.
The final medal tally was six gold, 22 silver and eight bronze.
If New Zealand had been able to push on and convert even around a third of those silver medals into golds, we'd be up there in the top five nations on the table.
Depending on where you sit on the glass-is-half-full/empty spectrum, there'll be some who will view this in a positive light ("you beauty, not far to go before we're in the top five") while others will see it as missed opportunity ("not good enough, silver is for slackers - now drop and give me 20!").
Certainly, if we're bemoaning a swag of silver then New Zealand is in a much better position than we were after the Melbourne Games in 2006, when the Kiwi team returned a record number of fourth placings (29).
But there have to be concerns over New Zealand's occupation of an unusually low position on the medals table and the fact that time and time again we were shown up by the Australians.
With each successive Games we appear to be slipping further behind our powerhouse neighbours.
It was only the Ferns' victory in one of the last events of the Games that prevented the team from being the first in 40 years to come home with fewer than five gold medals.
There is a danger that if we become too self-satisfied with a near-miss in Delhi, then next time our athletes will be coming home with their tails between their legs.