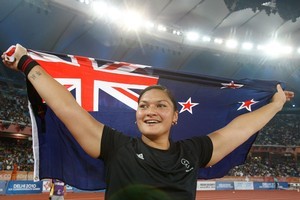 David Leggat and Dylan Cleaver assess the various sports' achievements in New Delhi.
Aquatics
* Sparc funding: $2.7 million
* Medals: 6 (Gareth Kean 200m backstroke silver; Glenn Snyders 50m breaststroke silver; Daniel Bell 100m backstroke silver; women's 4 x 200m freestyle silver; Hayley Palmer 50m freestyle bronze; women's 4 x 100m freestyle bronze)
* Verdict: Thumbs up
Pretty satisfying meet overall for the swimmers. Melissa Ingram and Glenn Snyders briefly held the Games records for 200m backstroke and 50m breaststroke respectively; there were two relay medals, although one came from a disqualification. A bold silver from Gareth Kean in an outside lane in the 200m backstroke final was the highlight. Plenty of personal bests and national records, as there should be.
Synchronised sisters Kirsten and Caitlin Anderson placed down near the bottom in solo and duets. Put it down to a learning experience. Ditto diver Gabrielle Armstrong-Scott.

Archery
* Sparc funding: $125,000
* Medals: 0
* Verdict: Evens
Both teams failed to reach the semifinals, although the men were close, losing by one point to India in their quarter-final while the women went down to gold medallists England. Big individual hope Shaun Teasdale lost his semifinal 3-1 to the eventual champion.

Athletics
* Sparc funding: $2.6 million
* Medals: 8 (Valerie Adams shot put gold; Nikki Hamblin 1500m silver; 800m silver; Brent Newdick decathlon silver; Jess Hamill parasport shot put silver; Stuart Farquhar javelin silver; Andrea Miller 100m hurdles bronze; Nick Willis 1500m bronze)
* Verdict: Thumbs up
A good, slightly better than solid performance from the track and fielders. Rebecca Wardell would probably have medalled if she had not injured her foot and the smiles might have been wider at Athletics HQ. Hamblin's silver double was the undoubted highlight, while Adams made sure she got the business done. Miller was a pleasant surprise in the hurdles.

Badminton
* Sparc funding: nil
* Medals: 0
* Verdict: Evens
A campaign that never got started and, apart from the women's doubles combination of Donna Halliday and Danielle Barry, was never expected to. They were seeded fourth, but Halliday was struggling with an Achilles strain and they were thrashed by Australia in their quarter-final. With only one player over the age of 24, this is a team being built for the future.

Bowls
* Sparc funding: $700,000
* Medals: 1 (Val Smith singles silver)
* Verdict: Thumbs down
National coach Dave Edwards sounded a broken man when he tried to - or more accurately didn't try to - explain away the poor performance on the greens. "I'm mystified as to why we have played so badly. We had a good plan, based on our success at the world championships and I thought we'd executed it well up to this point. There are no excuses ... We just haven't performed, and it is frustrating." It could prove costly, too. Bowls promised Sparc three medals and did not deliver.

Boxing
* Sparc funding: $12,250
* Medals: 0
* Verdict: Thumbs down
The six fighters won a total of five bouts. Heavyweight David Aloua, ahead in the third and final round, had his fight stopped because he had a bloody nose. Unlucky. Four of the six lost to eventual finalists. Average return, at best.

Cycling
* Sparc funding: $6.235 million
* Medals: 11 (Alison Shanks individual pursuit gold; Jesse Sergent IP silver; Lauren Ellis points race silver, Joanne Kiesanowski scratch race silver; men's team pursuit silver; Men's team sprint silver; Hayden Roulston road race silver; Linda Villumsen TT silver; Simon van Velthooven keirin bronze; Eddie Dawkins kilo TT bronze; Sam Webster sprint bronze)
* Verdict: Thumbs up
Bit of a weird meet for the track team who come home weighed down by medals without feeling like they over-achieved. Even they were probably surprised by just how strong Australia was, with the gold lycra accounting for 12 of 14 medals on the track. Shanks was the star, though Sergent and Ellis came perilously close to standing on the top step. The men's road team were probably the highlight, with Gordon McCauley and Jack Bauer destroying most of the field on their way to leading Roulston into silver. There's that word again: silver.

Gymnastics
* Sparc funding: $25,000
* Medals: 0
* Verdict: Evens
Managed two fourths through Mark Holyoake and Misha Koudinov in individual apparatus. The team was disappointing while the rhythmic trio never threatened. Probably did about what was expected.

Hockey
* Sparc funding: $2.26 million
* Medals: 2 (women's team silver, men's team bronze)
* Verdict: Thumbs up
A good return, especially from the women who have at times flattered to deceive at past major tournaments. Heartbreak in losing by penalty strokes, but they're a squad with an average age of 22 and have a smart coach in Mark Hager. The signs are all good. The men wobbled in pool play, but came good at the last against England, again in penalty strokes.

Netball
* Sparc funding: $1.5 million
* Medal: 1 (team gold)
* Verdict: Thumbs up
They did what they had to do, toppling Australia in the most dramatic manner, deep past extra time, winning by the two-goal margin. They led Australia by seven early in the final quarter, but lost their way. Cue a new heroine in Maria Tutaia, who nailed the last six shots with cramped legs. The Aussies felt crushed, a feeling the Silver Ferns know. A nice way for New Zealand's Games to end.

Rugby
* Sparc funding: $1.5 million
* Medals: 1 gold
* Verdict: Thumbs up
The figure above is a little misleading, with the money going to the NZRU for its high-performance programme, which also includes sevens. With the sport making its debut at the 2016 Rio de Janeiro Olympics, there might be a case for Sparc to fund separately. Certainly they haven't done their cause any harm with another gold in an excellent final against Australia. Gordon Tietjens proved for the fourth time he has the Midas touch, this time spurring the likes of Sherwin Stowers and Kurt Baker to big things.

Shooting
* Sparc funding: $66,000
* Medals: 2 (Mike Collings/John Snowden fullbore pairs gold; Greg Yelavich/Alan Earle centrefire pistol silver)
* Verdict: Thumbs up
A contentious gold for the mens' fullbore pair where the electronics were on the blink, and a silver to perennial Games achiever Yelavich (his 12th medal) and Earle. Having two women in the individual trap six-person shootoff was a bonus. Nadine Stanton could have had her third Games medal but for missing her final shot. Still, two medals is hardly a disaster.

Squash
* Sparc funding: $600,000
* Medals: 2 (Joelle King/Jaclyn Hawkes women's doubles gold; King/Martin Knight mixed doubles silver)
* Verdict: Thumbs up
Singles went as expected, but doubles came to the party big time. Gold/silver in the women's and mixed finals represents a strong return. Joelle King was the country's most successful individual with two medals, along with relay swimmers Amaka Gessler and Natasha Hind, middle-distance runner Hamblin and cyclists Sergent, Webster and Dawkins.

Table tennis
* Sparc funding: nil
* Medals: 0
* Verdict: Evens
There was very little expectation on this four-woman team and, frankly, very little interest. None of Jenny Hung, Karen Li, Yang Sun or Annie Yang progressed past the quarter-finals, be it in singles or doubles. There is an enthusiatic club following for the sport in New Zealand but its high-performance profile has basically fallen off the map since the retirement of Chunli Li and Peter Jackson. Without a detailed and rigorous high-performance plan, it's difficult to see where they go from here.

Tennis
* Sparc funding: $100,000
* Medals: 0
* Verdict: Thumbs down
Half the team pulled out shortly before the Games. Rubin Statham and Marina Erakovic departed tamely in the quarter-finals in back-to-back centre court appearances. All pretty flat. Should the sport even be on the Games programme? No.

Weightlifting
* Sparc funding: nil
* Medals: 2 (Richie Patterson silver 85kg; Stanislav Chalaev silver under 105kg)
* Verdict: Thumbs up
Good campaign from this group of six. A pile of national records and personal bests plus medals for Patterson and the man he mentored when he first came to New Zealand from Siberia as a 12-year-old.Chalaev also provided one of the feel-good stories of the Games, overcoming the death of his mother to triumph in a seriously brutal category. They'll go home well satisfied with their overall performance.

Wrestling
* Sparc funding: $115,000
* Medals: 0
* Verdict: Thumbs down
Had a team of six, including a first woman, Sian Law. One, Hamilton's under-96kg man, Aaron Quinlan, was unlucky in getting a painful finger in an eye during training. Disappointing return, although it's an event where prospects are largely determined by the draw.

* Sparc funding is for core high performance for 2009-10. Those sports with nil funding either didn't apply, or didn't receive any support in that period.