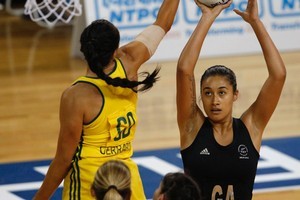 It's not often netball dominates the water-cooler talk around the country - but yesterday few office workers would have got their fix without uttering the name Maria Tutaia.
The Silver Ferns added another chapter to their unbelievable rivalry with Australia with a heart-stopping 66-64 double overtime victory in the Commonwealth Games final.
You couldn't have scripted a final more dramatic or gripping - and for that reason it would have to rank as one of the greatest netball matches of all time.
Their performance had all the elements of a great sporting tale: the brave captain's knock, with Casey Williams toiling away all night to win back possession for her side; redemption for Anna Scarlett, the Silver Ferns problem child, who came up with some huge plays in her cameo appearances (at wing defence, no less) in the second half and extra time; and the emergence of an unlikely hero in Tutaia, who has a reputation of going missing in tight situations, standing up and delivering when the attack end was crumbling around her.
But as far as netballing contests between these two countries go, it wasn't the most skilful display. That was an inevitable by-product of the fact it was their seventh game in 11 days in difficult conditions in Delhi, and the pressure of knowing there was a gold medal on the line.
With the Ferns leading by seven goals and 10 minutes remaining, it should have been game over right there for the Australians. But as the heat came on in those closing stages, there were wobbly passes, hesitancy with their feeding into the circle and a couple of out and out brain explosions on attack. Goal by goal, the Australians whittled down the Ferns' sizeable lead to level the score, sending the match into overtime and New Zealand fans to a hair-pulling, hiding-behind-hands, pacing-the-room frenzy.
But what the Kiwis lacked in flair and precision in those pressure-filled stages, they made up for in guts and determination.
As is often the case in sport, the players are hailed when teams win, while the coaches cop the blame when they lose. But it would be remiss not to mention Ruth Aitken and Wai Taumaunu's role in the Ferns' character-filled victory.
What was obvious in the final is that very little separates the two sides - the difference between gold and silver very often lies in the preparation.
The catch-cry of New Zealand's campaign all season has been about building resilience. Players were overloaded early on in the season to prepare them physically for the tough schedule they would face in Delhi. Likewise the coaching staff ensured the players were mentally prepared for the unpredictable atmosphere and any adversity they may face at the Games.
The result being a successful defence of their Commonwealth Games gold. Not to mention some rather enthusiastic discussion around office water-coolers.