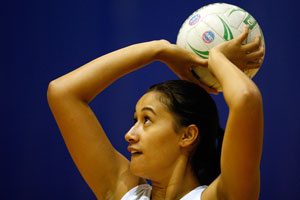 Maria Tutaia can be infuriating. Since bursting on the scene as an 18-year-old prodigy, Tutaia has proved herself a match-winner, but also a player who can go missing for long stretches. She'll catch turn and shoot from near the edge of the circle and drop it through most times, then fluff her lines from under the post.
She has played close to 50 tests, most of them with Irene van Dyk, but there was still the lingering suspicion they weren't always on the same page. In short, she's been maddeningly inconsistent.
After her stunning extra-time shooting performance in the 66-64 gold medal win against Australia, coach Ruth Aitken detected a new Tutaia had emerged in Delhi.
"You're seeing a mature Maria in action now," Aitken said. "She's been really consistent at this tournament, something that has probably eluded her up until now."
In an extraordinary conclusion, Australian sharpshooter Catherine Cox had two opportunities to end the game - one in normal time, one in extra time - but missed.
Tutaia, who had cramp so swapped roles with van Dyk, nailed pressure shot after shot, most from the outer reaches of the circle, to keep New Zealand in the game, before striking gold on her first opportunity to win it. "I had to shoot it," Tutaia said. "I was wearing the goal attack bib, my calves were cramping up, there was no way I was going to miss that opportunity."
Her cramps meant van Dyk was forced into the less familiar role of doing all the out-of-circle running before dropping in to rebound. It was a role she was quite happy to play.
"I was quite happy for her to take the shots," van Dyk said. "She had a sweet shot today."
Looking on was a coach feeling very proud.
"It was just amazing, with all that pressure, that she could play as if there was no pressure at all," Aitken said. "That's a very special quality."
As for her tendency to drift in and out of games, Aitken thinks a hard word or two might have cured her of that habit.
"We've challenged her to up her work rate and she has really responded to it. Also I think she now sees what she is capable of.
"That belief, and having the belief of others as well ... has been really good for her."
Belief was a word Aitken used a lot to describe the victory. Belief in their gameplan, belief in the fact they were as good, if not better, than Australia and, most importantly, belief in each other.
Surely though, when a seven-goal final quarter lead was whittle all too quickly back to zero, that belief must have started eroding?
"I had started to relax and that was fatal," Aitken said. "Norma [Plummer] in true style made some changes that worked in their favour. We forgot to do the work off the ball to be available and blow me down we're back to even stevens. That's the thing with Australia. You can't relax at all." One player who didn't relax, though you'd never guess it by looking at her, was Tutaia.
This was her moment; the moment when she went from awesome potential to simply awesome. "This means the world to me. My family back home who have sacrificed so much for me. This is for my family and friends."