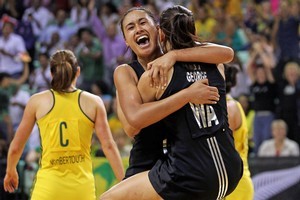 New Delhi - Her captain and coach agree - Maria Tutaia was the heartbeat that powered the Silver Ferns to Commonwealth Games glory yesterday.
Casey Williams and Ruth Aitken spoke in wonderment at how the 23-year-old Auckland shooter kept her cool in the white hot atmosphere of the 66-64 final defeat of Australia.
Tutaia's hot hand from long range kept putting the Silver Ferns a goal up through the second period of extra time, eventually cracking their opponents to emerge the required two-goal winners of the one of the great trans-Tasman sporting battles.
Asked soon afterwards to identify the difference between the two teams, captain and gold defence Williams had little doubt.
"I think personally Maria. She is a matchwinner for us," Williams said.
"She was shooting hoops from anywhere.
"(And) She's a quiet worker but she does a lot of work to keep her partner busy.
And she's not afraid to put the ball up."
Coach Ruth Aitken said she always has faith in Tutaia to land the clutch shots from any part of the circle.
It was due to an improved mental approach and the urgings of her teammates to take advantage of remarkable natural gifts.
"You see a maturing Maria in action now. She's been really consistent at this tournament, something that has probably eluded her," Aitken said.
"We've challenged her to up her work rate and I think she's really responded to it. But I think she also sees what she's capable of.
"When she put those goals in that was just amazing. When there was all that pressure, she could play as if there was no pressure at all. That's a very special quality."
Goal attack Tutaia is 15 years younger than Irene van Dyk, the woman she is now surely destined to replace as New Zealand's premier front court player when the great goal shoot retires.
She put up 50 shots compared to the heavily-marked van Dyk's 29 - a reversal on the usual tallies.
Having notched up five years at international level, it seems Tutaia is as relaxed as she appears when lining up clutch shots.
That included the match winner which preceded an emotional bear hug with midcourter Temepara George.
She was asked what thoughts were running through her mind before that mid-range shot.
"Nothing. I had to shoot it. I was wearing the goal attack bib ... I got given the ball, there's no way I was going to miss that opportunity.
"When it went in, I saw Temepara and I just attacked her."
There was also the rare sight sideline of an embrace between Aitken and coaching arch-rival Norma Plummer, both acknowledging the scale of the epic match they had just sat through.
Aitken said the 2-1 series loss to Australia six weeks ago had ultimately proven invaluable.
"It did galvanise us into paying attention to lots of things and ensuring that we didn't take anything for granted," she said.
"In the end this is the prize for the year. I'd have liked that Constellation Cup as well so I am a bit a annoyed but this was the biggie."
All the players were now relishing a minimum break of six weeks.
World class defender Williams was sporting ice packs on both her knees and had to be managed through the Games so they didn't degenerate.
"They're getting old, definitely the load on them this week has been huge," Williams said.
- NZPA