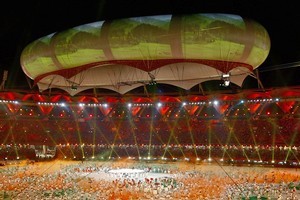 India is ready, let the Games begin - pity is, they started 11 days ago.
As the Commonwealth Games closed today, Delhi had them in good order - Games buses were running on time, crowds at many venues were sizable, as security guards relented on their frisking frenzy, and let spectators get in.
There were no terrorist attacks, no venues collapsed, transport lanes worked a treat, no athletes were struck down by dengue fever, a few Aussie and English swimmers got "Delhi belly", and even that was not from the Commonwealth Village food.
There were technical glitches with shooting electronic targets that didn't register hits and possibly the worse results service since the 1896 Athens Olympics, but predictions of a technological Armageddon proved well off the mark.
So, all in all these were - to use Olympic Games parlance - the not so baddest Games ever.
For a Games where all the (western media) talk going in was about cancellation, or a swift transfer to Melbourne, and where athletes bailed out pre-Games for fears over their safety and hygiene, Delhi far exceeded expectations.
At the start that did not look possible, with the event beset by problems. There were empty grandstands, allegations of corruption around ticket sales, and Games bus drivers who did now know their way around Delhi, so either didn't turn up, or if they did, roamed the city in hopeless circles with athletes trapped inside.
Security guards prevented people - athletes, officials, spectators, you name it - from getting where they were going, and confiscated water bottles, so fans had to watch the sports in 40degC heat without it. Indians stayed away, rather than go through that.
Yet things improved by the day, with important sport and athlete related fix ups done first, followed by the small details.
So, using the main press centre as an example of the trend, a couple of days after the spectacular opening ceremony, food other than coffee and biscuits was at last available, a bar followed a few days later then - three days before the closing ceremony - a souvenir shop.
And a dormant fountain at the Commonwealth Games Village suddenly burst into life, a week into the Games. India was ready.
None of this mattered once competition started. Delhi proved a Commonwealth Games was not about than venues, transport and accommodation - it's about athletes and their competition, and if that goes smoothly and is exciting, nothing else matters.
"Delhi has performed. The feeling is the end result has been good," Commonwealth Games Federation chairman Mike Fennell told reporters today, though he diplomatically refused to stipulate just how good.
Organising committee secretary general Lalit Bhanot told the final press conference he never doubted the Games would proceed.
"I had confidence always, I told everyone we would deliver the Games, which we have done," Dr Bhanot said.
Delhi did perform, and it did deliver, albeit in a quirky, colourful, spasmodic, random and often frustrating fashion, attributes the well-organised and near-perfect Games at Melbourne four years ago lacked.
India has eyes for hosting the 2020 Olympic Games, with that dream seemingly so close to Delhi head honcho Suresh Kalmadi's heart that he mistakenly said "Olympics" at the final press conference today, when he had meant to say "Commonwealth".
With, quirky and random not qualities the International Olympic Committee holds dear to its own cold money oriented heart, Delhi might have dealt a blow to its aspirations to leap on to that stage.
Those Games, India is not ready for.
- NZPA