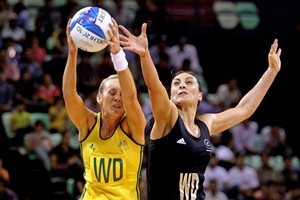 NEW DELHI - It's gold for the Silver Ferns after they survived squandering a seven-goal lead in New Delhi to nail a double extra-time sudden death thriller 66-64 over Australia in the Commonwealth Games netball final today.
In arguably the most incredible netball test of all time, the trans-Tasman sides took turns at throwing away winning chances as tension and exhaustion gripped like a vice, until New Zealand goal attack Maria Tutaia finally put the dagger in.
New Zealand had scored five unanswered goals early in the final quarter to scorch to a 40-33 lead, only to go into panic mode in the last two minutes and seemingly throw away the gold medal, then levelled at 58-58 in the last second of extra time.
Tutaia was magnificent in the clutch, landing a series of crucial shots until the final one brought a boilover of emotion and relief -- and grief for Australia.
Tutaia feared she might not be able to carry on much longer, she told NZPA.
"I'm just so stoked, my calves were cramping up, that's why I was getting a bit worried," she said.
"I'll tell you what, I can't even talk. We all came together, we knew it was going to be a game like this, I think the game went more than an hour-and-a-half."
Replacement Australian goal shoot Catherine Cox and New Zealand flagbearer Irene van Dyk, who tried a high-risk long range shot, both had chances to seal it in the final minute of ordinary time, and both missed to leave the match alive.
That meant two seven-minute periods of extra time, and when that couldn't separate the team, a sudden death spell with the first side opening a two-goal lead getting the gold.
New Zealand had trailed for much of the game as Australia applied a mid court stranglehold, but inspirational halftime changes by coach Ruth Aitken pulled the gold medal out of Australia's clutches.
On came former beach volleyball international Anna Scarlett at wing defence as well as Liana Barrett-Chase at wing attack and suddenly Australia had the skids under them.
It was a cameo by Scarlett, who left again in the final quarter, but it was a telling one, as her long reach derailed several Australian attacks.
Australia had led 10-9 after the first quarter, 23-20 at halftime, trailed 33-35 after the third quarter, then the Silver Ferns scored five unanswered goals to open what seemed a winning 40-33 lead.
But no, this was Australia, and they weren't going away.
On came former skipper Cox at goal shoot and with six minutes left the gap was back to two, with the "Kiwis, Kiwis" chant from the stands urging on New Zealand.
Both sides had started nervously, with the first quarter riddled with turnovers and both sets of shooters either missed or had shots deflected away.
Australia opened up a five-goal lead in the second quarter, as New Zealand centre Laura Langman, wing attack Temepara George and wing defence Jolie Henry struggled to get the attack flowing, with Langman and George lacking the confidence to let the ball go.
Even consecutive intercepts by van Dyk and captain Casey Williams could not stem the bleeding, as Australia prevented swift ball getting to goal shoot van Dyk and Tutaia.
New Zealand took twice as many intercepts as Australia in the first half, but the Diamonds outshot the Silver Ferns, who had to cope with the menacing Susan Fuhrmann at goal keep.
Then Aitken made her halftime switches, with Scarlett -- all arms and legs -- twice demolishing Australian attacks with her massive reach.
- NZPA