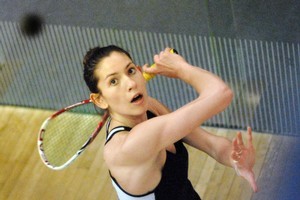 To sum up Joelle King's last 10 days, check out the strings on her squash racquet.
There's a small spot that has frayed. It stands out because the rest of the racquet looks as if it's just come off the production line.
The fraying is no surprise. She's endured a marathon schedule in the doubles at the Commonwealth Games, where an endless number of women's and mixed matches have tested the mind as much as the body.
But then take a closer look at that spot. It's right in the centre, which tells another story.
"They say it's a good sign when your strings are starting to fray in the middle. It means you're hitting the ball well," she said.
"And I think it must be right. I'm playing as well as I ever have and moving well as well."
The confident talk matches her play in New Delhi.
A women's doubles gold medal with Jaclyn Hawkes and mixed doubles silver with Martin Knight are the reward for a campaign which the Cambridge 22-year-old hopes to use as a launching pad for an assault on the world's best singles players.
Knight has no doubt when asked about King's career prospects.
"All the way," is the simple response.
New Zealand coach Anthony Ricketts is also candid about the potential of a player with the right attitude, physical attributes and time on her side to improve on an already rapid rise to 20th in the world rankings.
"I think she can go as far as she wants to go," he said.
"I expect her to be in the top 10 in the next 12 months and then it's only a matter of time before she's [No 1]."
Such talk would make some players uncomfortable but not the lanky King, who only took up the sport seriously six years ago.
- NZPA