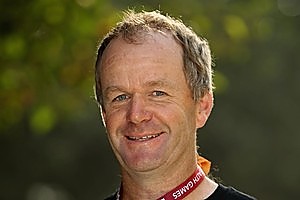 Commonwealth Games shooting gold medallist John Snowden will be on his South Canterbury farm moving stock and planting crops this weekend, his life far removed from the glitz and glamour of international sport.
He might not even have got to New Delhi had his brother Michael not moved his family from Brisbane to manage the farm for a year, while Snowden chased the qualifying scores he needed to get to the Games.
And when he and gold medal-winning fullbore pairs partner Mike Collings went to a shoot in Perth on the way to the Games because it used the same electronic targets as New Delhi, they slept on the clubhouse floor at the range, not in a ritzy central city hotel.
As Snowden, 41, stood surrounded by television cameras and reporters yesterday, a gold medal draped around his neck, you sensed he felt the sacrifices were worth it, even if he hadn't had a lot of sleep.
"We were late getting home from the range," he said.
"I was still buzzing a bit, and it was midnight before I got to bed, I was still awake two hours later."
Over the past couple of weeks in the Commonwealth Games Village, he has learned how other athletes had approached the Games, and been surprised.
One men's hockey player told him he had played 40 tests since last November, he said.
"There's no way we could ever have done that, I get to Australia for a match a couple of times a year, and shoot the local competitions at home, and that's about it really," he said.
The travel that is done, is on the cheap, such as sleeping on the range.
"It saves a few dollars. We've got a lot of friends now around the world with shooting, and you can usually find somewhere to doss down," he said.
"A lot of times, transport's the problem, it's easier to stay on the range, then you don't have to hire a car to get your gear out."
If one thing could make life easier, it would be a good farm manager, now his brother is back in Brisbane.
"He took a year off his work in Brisbane and his wife and kid moved over from Brisbane for the best part of a year, and helped out on the farm - that was the period when we had the trials. He was very helpful. I had a lot of weekends away, and with stock you need somebody there all the time to keep an eye on it.
"It's very handy to have him there."
Protests over malfunctioning electronic targets that held up the medal presentations for several hours had taken some gloss off his gold, he said.
Collings and Snowden had to wait anxiously for several hours to hear if they had won, after the Australian pair, who had been leading, complained some of their shots had not been correctly recorded.
By the time all the protests had been dismissed a medal ceremony due for 3pm (local time) was held in darkness, at 6.20pm.
"When you see the other events, you finish, you know who wins straight away, and they get straight on the podium. That whole atmosphere and the euphoria of the win is captured in the medal ceremony," he said.
"By the time we'd waited six or seven hours you know, it felt a wee bit ho hum really. It was still special, but yeah, it could have been more special.
"It was only really Australia who could have beaten us if they'd had a good match yesterday, but who knows?
New Zealand won with a Commonwealth Games record 588 points, with Scotland on 587, and England third on 584.
- NZPA