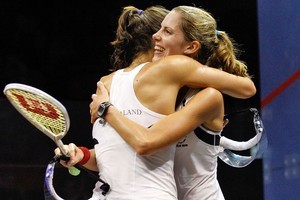 After the tears, came the cheers.
First there was women's hockey heartbreak, after the Black Sticks twice fought back from one goal down to haul Australia screaming into extra time, only to lose a penalty stroke shootout lottery 2-4.
As tears subsided, news of doubles delight came from across town, where unheralded squash combo Joelle King and Jaclyn Hawkes won the women's doubles gold medal, squashing English opponents with lofty world rankings.
King liked winning gold so much she celebrated by shooting straight back onto the court for another crack, this time in the mixed doubles with Martin Knight.
Commonwealth Games medal table
Just a silver this time, as three straight hours on court started to take toll on her power game.
Day 10's other New Zealand gold medalists, fullbore pair Mike Collings and John Snowden, didn't get much time to celebrate either.
Collings had to shoot through. In quick succession he went from the podium, to drug testing, to a vehicle, to the airport, to a plane, and off to Brisbane.
At 7pm he was in drug testing on the rural outskirts of Delhi, at 11pm he needed to be on an international flight. No problem, manager Tony Waymouth said.
"If he shows his medal, I'm sure he'll get there, mate."
Snowden was left to have a celebratory beer without his partner - they'd catch up in January, he said.
At least Snowden looked as if he would celebrate, even after a torrid five days of target malfunctions, heat and protests, in contrast to cyclist Linda Villumsen, a black cloud in lycra after a silver medal in the women's road time trial.
She finished less than five seconds outside the gold won by Tara Whitten of Canada, for one of four New Zealand silvers on the day.
"Silver is good but I really wanted to win this one. I'm a bit disappointed in myself," she said, stating the obvious.
And back to those hockey tears, with defeat harder to take as it seemed the Black Sticks were on top of the Hockeyroos, without being able to land the killer blow.
That's how it goes, coach Mark Hager said. New Zealand had won big games on strokes, so they had to accept losing that way.
"You've got to finish the game. It's cruel but it's life. This time the penny didn't roll our way," he said. "Shit happens, we've got to live with it and move on."
Co-captain Kayla Sharland put it even more precisely.
"It sucked," she said.
A less dramatic silver followed from the lawn bowls where Val Smith couldn't quite complete the miracle comeback and was left with a women's singles silver medal.
"She's a class act," a gracious Smith said of young English opponent Natalie Melmore.
With the two-gold, four-silver haul New Zealand surpassed its medal total from the Melbourne Games in 2006. In Delhi 34 medals have been won - five golds, 22 silver, seven bronze.
But in Melbourne, New Zealand athletes won six golds, so that target can only be reached on the last day tomorrow (NZT), and only by the Silver Ferns, who play Australia in a repeat of every Games netball final there has ever been.
Let's hope for cheers, not tears.
Day 10 medallists:
Gold:
Mike Collings and John Snowden (shooting) fullbore pairs
Joelle King and Jaclyn Hawkes (squash) women's doubles
Silver:
Val Smith (lawn bowls) women's singles
Martin Knight and Joelle King (squash) mixed doubles
Women's hockey team
Linda Villumsen (cycling) women's road time trial
- NZPA