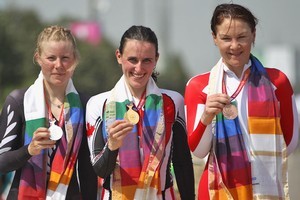 In brutal heat and on an unrelentingly boring course, Linda Villumsen joined a long list of New Zealanders with silver medals as the Commonwealth Games wind down towards tonight's closing ceremony.
After 29km of grunt, the 25-year-old finished less than five seconds behind Canadian winner Tara Whitten. To put the margin in perspective, Whitten's average speed was 44.628km/h over the flat course, Villumsen's 44.526.
England's Julie Shaw finished third, 10.22s behind the winner.
For Villumsen, it is the second major medal she has picked up this month, after her third at the world time trial champs in Australia.
"Silver is good," she said last night, "but I really wanted to win this one, so I am a bit disappointed in myself."
BikeNZ might share that initial disappointment, but have confirmation they are lucky to have a rider of Villumsen's pedigree land in their laps.
Villumsen came to Howick as a 17-year-old, enrolling at Pakuranga College, returning every year to train and live with her second family, Angela and Bindy Houkamau.
She achieved residency late last year and switched her allegiance to New Zealand, to the delight of cycling officials here and the consternation of their counterparts in Denmark.
"It's the country, it's the people, it's the lifestyle," she said at the time about what attracted the girl born in Herning, on the Danish European mainland, to New Zealand. "It reminds me a lot of Denmark."
It's likely she would have found the conditions and the course for the time trial nothing like her birthplace or NZ.
The race was staged along an expressway that skirted the satellite city of Noida, an acronym for New Okhla Industrial Development Authority. Noida is, by Delhi standards, clean and relatively green.
But as befitting a place that has sectors rather than suburbs, it is a sterile environment for road cycling. The course had no technical or strength elements so was purely a battle against the clock and the heat.
"You sort of see everybody in front but you don't know if you are gaining time or losing time," said Villumsen. "It's just a long ride when it's so straight. Some corners would be good."
Villumsen spent the past two days recovering from an energy-sapping road race on Sunday.
Road coach Glen Mitchell, who described Villumsen as "a great asset", said the tailwind out meant the race did not really start until they turned into the headwind at the top.
"We're super-happy with the medal, but I'm sure she'll be a little disappointed not to take the gold on the form she had from the world champs."
Cambridge rider Melissa Holt finished a creditable fifth, 11s out of bronze, while Alison Shanks was 10th in the 28-strong field.
The men failed to medal, with Jack Bauer best placed in 8th, 3m 29s behind the winner David Millar, of Scotland.