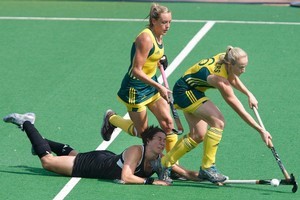 NEW DELHI - Shootouts. Love them or loathe them, they're compelling.
New Zealand's brave bid for the women's hockey gold medal foundered in that most dramatic of sporting denouements against Australia last night.
With the scores locked 2-2 after full time and the extra 15 minutes, the gold and silver were decided in the nerve-jangling modern way, 4-2 on strokes.
Striker Katie Glynn's first shot was saved by goalkeeper Rachael Lynch; the second, by striker Krystal Forgesson, flew wide of the goal, and that was effectively that.
Australia had one scare when Fiona Boyce put their third shot wide, but once defender Jessica Arrold struck the fifth shot high to New Zealand goalkeeper Beth Jurgeleit's right, a third gold medal in the last four Commonwealth Games was theirs.
Tears blurred New Zealand players' eyes for they had outplayed world No 6 Australia for much of the match, had twice fought back from a goal behind, including with 30 seconds remaining in normal time.
They deserved better.
For the Black Sticks, ranked No 7, it is their best Games result - exceeding the bronze won in 1998 - but that was cold comfort in the strength-sapping heat last night.
"Shit happens," an emotional coach Mark Hager said of the penalty finish.
"You've got to live with it and move on. I'm really proud of the girls. It just didn't roll our way today."
New Zealand were as nervous as kittens through the first 15 minutes, as Australia took the initiative from their first penalty corner when defender Jessica Arrold's shot flew under the body of goalkeeper Beth Jurgeleit.
After that Australia seemed content to hold the lead without looking to press.
Gradually New Zealand got into the contest. Midfielder Anna Thorpe and striker Krystal Forgesson both had shots from close range in one hectic scramble. The pattern continued as the Black Sticks had much the better of the second half, with impressive midfielders Stacey Michelson and Gemma Flynn making threatening runs into the Australian circle.
New Zealand got level when Sam Harrison pushed the ball home after a penalty corner, before Ashleigh Nelson regained the lead with a clever shot 12 minutes from the end.
New Zealand's sixth penalty corner right at the death kept the dream alive. Clarissa Eshuis' shot deflected off a defender past Lynch.
After extra time it came down to the best and worst of conclusions.