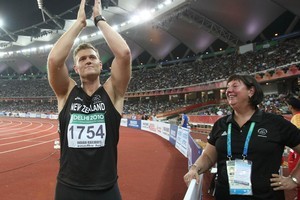 Eight in the bag big step up on the four New Zealand scored at Melbourne Games
New Zealand's track and field medal haul was the richest for the sport since the 1990 Games in Auckland.
Hamilton hurler Stuart Farquhar completed New Zealand's track and field programme yesterday, picking up silver in the javelin.
That brought the athletics medal count to eight, with Valerie Adams' gold, five silvers and two bronze.
That's a significant achievement for a relatively lean 13-person team and a big step up from Melbourne 2006 when four was the sum total.
"It's been pretty good for us," coach Chris Pilone said.
Farquhar's medal continued a colour theme for these Games, with New Zealand relatively lean on the gold front, but rich in silver. In athletics alone he joined Jess Hamill, Brent Newdick, and Nikki Hamblin (x2) as runners-up.
Farquhar went into his event as the highest-ranked thrower, having hit 85m this year. But Australia's Jarrod Bannister owned the longest personal best at 89m. Bannister won with a throw of 81.71m. Farquhar left his best until last, getting the javelin out to 78.15m. By then he was guaranteed silver.
Farquhar had to overcome a measuring glitch which saw his second throw recorded as 72m, though it clearly went out beyond the 75m mark. It was eventually re-measured at 76.93m.
"They put a mark of 72m and I was like, 'What?' That was over 72, it was over the 75m mark," he said. "I had to ask the question of them and they re-measured. I'm not too sure how and why it happened, but that's India."
Farquhar said it didn't affect his rhythm, though the lack of wind in the stadium made for a difficult night.
"It was tough to throw far in these conditions tonight. I worked really hard out there. I've had a really sore heel in the last month and I managed to get through the comp okay, so I was rapt. Debbie Strange, my coach, and I have been working so hard this year. We've worked on getting perfectly timed to perform well at the Commonwealth Games. A silver medal's fantastic you know.
"It's definitely a stepping stone towards higher success later on."