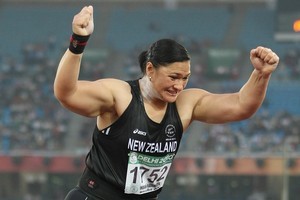 Let's face it, the Commonwealth Games have played out like a school sports day. You have Valerie Adams, who's like the grown-up mature kid of the class, winning by a metre and a half over her nearest rival.
Over at the sevens the sight of Srinath Sooriyabandara scampering away from a hulking Australian bloke brought back memories of big hairy seventh formers chasing down weedy third formers in bullrush. But Sooriyabandara scored, so take that and hang it on your golden medal haul, you Aussies.
And then, of course, there's the chaotic yet somehow overly officious approach of the Indian organisers.
It's these grassroots-meets-athletics day moments that a non-sport loving colleague of mine reckons gives these games a unique charm and entertainment value unlike any others.
She's been watching for the trimmings and the quirks, like the soldiers at the medal ceremonies who march out with much pomp and circumstance.
I agree, the Delhi Games are great entertainment. I've never seen so many near-belly flops at the diving competition in my long Olympics and Commonwealth Games viewing career. (There is a possible reason for that problem - apparently the 10m diving platform is 10.7m high which means the contestants will have had to tweak their dives accordingly.)
However, for someone like me who likes to think they ran a pretty decent 100m at intermediate school, I prefer my athletics, swimming, and table tennis (don't knock it, check out the Chinese play) with a little bit of chest-beating bravado and wow factor. You know, the "Yeah. Look at me, look at me", antics of sprinter Usain Bolt (who elected not to compete at the Games).
Obviously, the quality of competition at the Commonwealth Games is - mostly anyway, because there are many like Adams who are at the top of their game - not as high as the Olympics because many of the powerhouse nations are not there.
If you ask me, that's the reason the games have lacked atmosphere and the all-important aura that international sporting events should have - and it doesn't make for riveting TV viewing that's worth staying up late for.
It makes you wonder how much longer the Games will be around. Then again, hopefully come the next ones the Aussies will have buggered off and become a republic - maybe John Key could ask Julia Gillard to fast-track that one for us? - and our golden days will return again.
There have been some golden moments, though (well, mostly silver ones in New Zealand's case). The very sparing use of the haka has been a welcome relief.
The games mosaic on the Sky TV menu - which hadn't been invented for the last Olympics from memory - makes things a little more exciting because you can watch seven sports at once.
New Zealander Nikki Hamblin's silver medal in the 800m reminded me of legendary racehorse Kiwi's come-from-last Melbourne Cup win in 1983. Pin your ears back and go, girl.
Another race that got my heart pounding was the women's 10,000m. Traditionally, even at the Olympics, it's a long laborious race. But when the two Indian girls took off right from the start there was something riveting about the next 33 minutes. I watched the whole thing, and while it had a little bit to do with that sick obsession of watching someone sprint for 10km and see the waves of adrenalin and then pain overtake them, it was also to see how 25-year-old Indian Kavita Raut - who took up running because she could do it in bare feet - would get on. She made third with a gritty and determined run. I almost shed a tear for the host nation.
Speaking of expending energy for your chosen sport, spare a thought for cyclist Hayden Roulston. He turned up to race with the flu, rode around the central Delhi obstacle course circuit for four hours in 35 degree heat, and came a creditable second. Where as our Valerie turns up, twirls around, throws a heavy ball, wins, jumps up in the air with delight, puts her tracksuit on, gets her medal and then it's back to the games village for a navrattan korma and a poppadom. Too easy.
-TimeOut