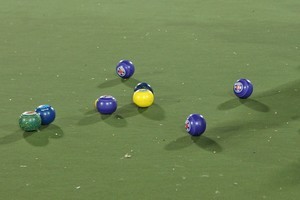 New Zealand singles representatives Ali Forsyth and Val Smith today made it through to the playoffs of their respective Commonwealth Games bowls events, with Smith pulling off a great escape to secure her berth.
The world singles champion, Smith had been at long odds to qualify midway through the four days of section play, when she sat second bottom in her 11-strong section.
But a run of five wins from six matches, the last four straight, saw the Nelson bowler get her fingertips on one the three qualifying spots.
For coach Dave Edwards, one of Smith's key attributes came to the fore as she picked herself up and worked her way back into contention.
"One thing about Val is just her sheer guts and determination," he said.
"She has a never-say-die attitude and it got her in."
Smith still had plenty to do at the start of the day, needing not only to win, but to do it by the quick route so any countback worked in her favour.
She ended up taking all three of her matches in straight sets at the Jawaharlal Nehru Sports Complex.
She started by downing India's Farzana Khan 14-3 8-6, followed up with a 9-5 13-5 victory over Guernsey's Ali Merrien, and finally confirmed she would be staying around with an 11-2 8-5 result over Malta's Carmela Spiteri.
Edwards said Smith's initial reaction to what she had pulled off was one of surprise.
"The first thing she said was, 'Are you sure, are you sure? I can't believe it. That was like the great Houdini.'
"She was over the moon."
The medals in both singles events will be decided tomorrow with the section winners being automatic semifinalists.
Smith will face either England's Natalie Melmore or Carol Difford of Wales for a place in the last four.
Forsyth's passage into the post-section wasn't as nerve-wracking.
He was undefeated going into today, but lost his morning match to Englishman Sam Tolchard 7-5 13-5, with Tolchard moving above him on countback.
He then beat Pita Munokokura of the Cook Islands 11-9 12-6 and Jersey's Michael Rive 9-3 14-2, but Tolchard also didn't slip up to stay ahead of him and claim the automatic semifinal spot.
The New South Wales-based Forsyth will meet either Australian Leif Selby or Scot Paul Foster in his semifinal qualifier.
- NZPA