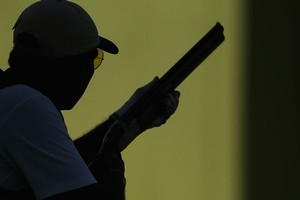 Games organisers, at the shooting range at least, have got a way to go before spectators are fully schooled on proper viewing ettiquette.
Spectators at the Dr Karni Singh range continue to flout large written warnings not to use their cellphones, causing grief for competitors. During the preliminary rounds of the women's 50m rifle, and again at the men's smallbore, phones rang several times while shooters were taking aim, prompting several angry altercations
and bouts of finger-pointing from shooters claiming their medal hopes are being compromised.

Still at the range, a schoolboy error by Aussie's oldest athlete, 57-year-old Michelangelo Giustiniano, has cost him a medal in the men's 25m centrefire pistol event. In silver medal position, Giustiniano had a brain fade and mistakenly fired all five of his shoot-off rounds into the target belonging to the competitor standing next to him, Singaporean Lip Meng Poh. Damn!

***
Riders in Sunday's men's l68km road race had more than Delhi's heat and grime to contend with there was also some of the city's famed stray wildlife to avoid on the winding journey through the city streets.
Despite the 13.7km loop course resembling a ghost town after armed security sealed off the perimeter, several times riders had to dodge stray dogs and the odd monkey during the 3 -hour slog. And how's this for the-reason-I-didn't win gold, from
the Isle of Man's Mark Cavendish, winner of 15 Tour de France stages in the past three years: "We didn't have a team as strong as the Australians . . . in our team we had an electrician and a man from the water board!"

***
As the bowls competition drags into its second week (without, it must be said, any success so far for the Kiwis) and squash also takes in interminable time to sort out its medals, what about this for brevity. Gambian wrestler Famara Jarou, up against Indian pin-up boy Sushil Kumar in the 66kg freestyle division, lasted all of 9 seconds. Kumar pinned Jarou with his very first move, the shortest bout in Commonwealth Games history.
***
And in one straight out of the "weird and macarbe" file, in seems Delhi's 'anything goes' approach to life also extends to its media, with the Hindustan Times featuring daily in its classified columns large Hue and Cry notices, complete with graphic photos, of unidentified dead found in city streets. Descriptions such as 'thin build', 'age unknown' and 'wearing white colour pajama (sic)', provide general details but it's the close up photos of the deceased in
various states of riogor mortis and/or decomposition that is most alarming. Can't imagine it'll be something that catches on in New Zealand newspapers anytime soon.