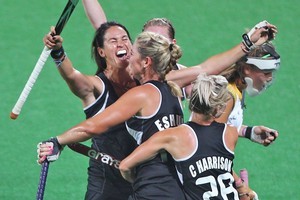 The haka made its first public bow at the Commonwealth Games and the Black Sticks women's hockey team were the recipients.
Hakas have become a familiar part of the New Zealand supporters at Olympic and Commonwealth Games during chef de mission Dave Currie's reign, which dates back to 2000 in Sydney.
They have usually been done to honour a New Zealand medal winner, although things got ridiculous one day at the hockey at the Athens Olympics in 2004 when a small group started a haka in the stands at the start of the second half of a New Zealand game, only to peter out two-thirds of the way through.
Straight after the national anthems for New Zealand and South Africa before their semifinal began - and before the Black Sticks had broken their line to prepare for the start, a large group of New Zealand athletes and officials stood and launched into a haka, Currie prominent in the front row.
The crowd seemed to enjoy it, the players saluted the supporters and New Zealand went on to progress to the final against Australia on Wednesday with a 1-0 win.
"I don't think I was surprised, but it was definitely special to have that support,"goalscorer and defender Clarissa Eshuis said.
"New Zealand is a pretty special team and there's lots of athletes who go and support each other.
"For a lot of the girls here it was quite unique and did give us a little something on the field._