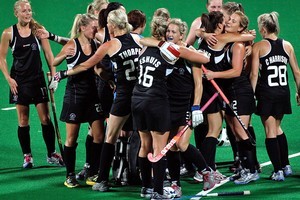 A second half goal from an unlikely source put New Zealand into the final of the Commonwealth Games women's hockey tournament.
Defender Clarissa Eshuis was in the right spot to push the ball into the South African net 18 minutes from the end of a spirited, entertaining match in which there wasn't much between the teams.
World No 7 New Zealand now play No 6 Australia, who beat No 5 England 1-0 in the other semifinal.
It means New Zealand will win at least the silver medal, thus making the women's most successful Games, eclipsing tthe bronze won in Kuala Lumpur in 1998.
"We knew they'd come out firing and it was always going to be tough, being a semifinal," experienced defender Emily Naylor said.
"It was tough and intense right at the end and it got a bit panicky, but we managed to hold in there."
The 12th-ranked South Africans, with striker Pietie Coetzee always a threat, had a final opportunity to equalise inside the final minute with their fourth penalty corner. However they muffed the set up and New Zealand's players were flinging their arms in the air moments later The goal came off an error at a New Zealand penalty corner.
Striker Katie Glynn miscued her shot, the ball rolled clear across the circle and Eshuis was on hand, in space, to grab the chance.
"Whoever scored it, if we'd won 1-0 I wouldn't have cared who scored. It was just lucky I got the one," Eshuis said.
She was part of a hardworking defence who had the odd scare but with goalkeeper Beth Jurgeleit in good form and Naylor outstanding they kept the line intact.
Midfielders Stacey Michelsen, diminutive Anita Punt and Gemma Flynn were fast, effective attackers while up front Krystal Forgesson and Charlotte Harrison ran tirelessly.
As for the final, Flynn said the teams know each other well, and she hinted she would have preferred to tackle Australia rather than England in the final.
"But the team that wins gold should be able to beat anyone at this tournament," she said.
"It's always a real personal battle, we know how each other plays. It's just a case of who is going to grind it out."