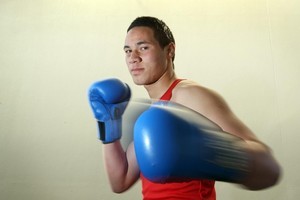 Rising New Zealand boxing star Joseph Parker needs to get his big feet back on the ground and get busy, says coach Billy Meehan.
Auckland 18-year-old Parker let victory slip by going into his shell during his super heavyweight quarter-final loss to Tariq Abdul Haqq.
It was the tightest of results, with the scores locked 7-7 on points when the three rounds completed, before the five judges voted 3-2 in favour of Haqq to break the deadlock. Meehan felt Parker may have been unlucky but wouldn't dwell on it.
Instead, he was compelled to criticise the youngster for slackening off after taking the early lead on points. Meehan suggested that was symptomatic of Parker's lax mental state since being talked up by many pundits in the leadup to the Games.
"There's been a lot of talk about this young kid. Maybe he's been reading a lot of his own press and believing it a little bit more than actually doing the work," Meehan said.
"The competitions he's been winning are youth. This is senior open and she's a whole harder game.
"It [the fight] was very close but Joseph's work rate was just way too low. He's got so much potential it's not even funny. It's just a matter of getting it out of him."
Meehan said he was sad none of New Zealand's six-strong boxing team had earned a medal. None reached the semifinals after Parker and Reece Papuni were downed in the quarter-finals.
Meehan said a couple of opportunities had slipped past some of the fighters and he remained bitter at the manner of David Aloua's exit, who was stopped after he suffered a nose bleed.
He said the boxers had performed better than at Melbourne four years ago, notching four wins and six losses in total. However, the shrinking number of amateur boxers in NZ was a major hurdle to overcome.
- NZPA