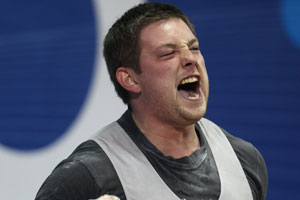 20.00pm: That concludes our Games updates for this evening. Later tonight Nick Willis will feature in the 1500m on the track while the NZ Sevens team continue their run through pool play. We'll have those results for you tomorrow morning but for now it's goodnight.
7.54pm: Scotland has delivered a double blow to New Zealand's hopes of winning a badminton medal at the Commonwealth Games today.
Women's singles player Michelle Chan lost her third round match while the mixed doubles pairing of Henry Tam and Donna Haliday also lost to Scottish opponents.
Following that, Anna Rankin was the last New Zealand singles player to exit the competition, losing 21-14 21-13 to Liz Cann, of England.
Chan was no match for third seed Susan Egelstaff, going down 21-11 21-9, while Tam and Haliday succumbed in a 39-minute struggle 18-21 21-6 21-17 to Watson Briggs and Imogen Bankier.
Playing later today were New Zealand's only remaining combinations - men's double Tam and Oliver Leydon-Davis and the fourth seeded women's doubles pairing of Haliday and Danielle Barry.
Quarterfinals are follow tonight for the winners.
7.23pm: We have shooting results, not great news for the Kiwis though. Sally Johnston and Juliet Etherington have finished seventh in the final of the Women's 50m Rifle Prone pairs final.
It was won by Jen McIntosh and Kay Copland of Scotland.
6.52pm: Rising New Zealand boxing star Joseph Parker has been told he needs to get his big feet back on the ground.
Auckland 18-year-old Parker let victory slip by going into his shell during this morning's (NZT) super heavyweight quarterfinal loss to Tariq Abdul Haqq.
It was the tightest of results, with the scores locked 7-7 on points when the three rounds completed, before the five judges voted 3-2 in favour of Haqq to break the deadlock.
After the fight his Commonwealth Games coach Billy Meehan felt compelled to criticise the youngster for slackening off after taking the early lead on points. Meehan suggested that was sympomatic of Parker's lax mental state since being talked up by many pundits in the leadup to the Games.
"There's been a lot of talk about this young kid. Maybe he's been reading a lot of his own press and believing it a little bit more than actually doing the work," Meehan said.
"The competitions he's been winning are youth. This is senior open and she's a whole harder game.
"It (the fight) was very close but Joseph's work rate was just way too low.
"He's got so much potential it's not even funny. It's just a matter of getting it out of him."
Meehan said he was "sad" none of New Zealand's six-strong boxing team had earned a medal here.
6.34pm: The Commonwealth Games Federation says women's 100m champion Osayomi Oludamola of Nigeria has tested positive for doping.
Oludamola won the 100m last on Thursday despite finishing second in the race because Sally Pearson of Australia was disqualified for a false start.
Commonwealth Games Federation President Mike Fennell said Oludamola had been notified of the positive test and had requested the testing of her "B" sample.
6.05pm: Reports that allegations a Kiwi cyclist was slapped by a policeman in Delhi are being denied by officials, Newstalk ZB reports.
The New Zealand team is also denying there was any slapping when a group of cyclists wanted to leave the village and was stopped by an officer.
Deputy Director General at the Village, Ashok Kapur, told the Hindustan Times there was a heated exchange but no one was slapped.
He says close-circuit television footage of the incident had been viewed and a report of the incident has been sent to the Olympic Committee top bosses. Investigations are ongoing.
5.37pm: It's fallen apart a wee bit for NZ in the sevens, Liam Messam yellow-carded for time wasting, then Canada going over for a seven pointer.
But it's just wrapped up and a convincing win for NZ 42 to 7.
Their next game is against Guyana at 8.20pm NZT, live on Sky channel 131.
5.31pm: NZ has banged on a couple of late tries in the first half to lead Canada 32-0 at half-time in their first match of the Commonwealth Games.
Elsewhere it's a busy night of track and field ahead, with Nick Willis kicking off the defence of his 1500m title in Delhi.
Beatrice Faumuina is in the twilight of her career but has a genuine chance of some more silverware in the discus, with the likes of world champion Dani Samuels missing.
Nikki Hamblin will run the 800m final after being disappointed with her qualifying efforts while Andrea Miller runs the hurdles final.
If shes lucky, Monique Williams will finally get the chance to run the 200m final after it was controversially delayed.
Check out today's full schedule of Kiwis in action.
5.18pm: Hi everyone, welcome to today's updates where the NZ seven's team is currently in action, they've raced out to a 21-0 lead over Canada in their opening match of the tournament.
Hosea Gear has just scored the third try for NZ, still in the first half of that one.