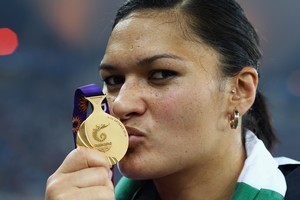 First they almost didn't come. Now they don't want to go home. Well, not just yet, not while they're doing so well.
A couple of weeks on from talk of terrorism, dirty accommodation and dengue fever, the clouds have disappeared for New Zealand athletes, revealing a mostly silver lining with touches of gold and bronze.
Already clutching 14 silvers, New Zealand snapped up two more today, Hayden Roulston in a cycling road race held in 33degC heat, and Russia-born 105kg weightlifter Stas Chalaev.
They shone amid news not one athlete had asked chef de mission Dave Currie if they could get out of Delhi and go home, as they are permitted to do if they fear for their health and security.
With fear of terrorism meaning New Zealand athletes must not sightsee in Delhi, Roulston and his road cycling teammates were the today first to get out and about in the sprawling city, even if it was bashing up and down a motorway for four hours.
Roulston had laughed off media reports that Delhi would be akin to sporting hell on earth and still came, when health and safety issues swayed fellow cyclist Greg Henderson to stay away.
His decision to make the journey brought tangible reward, as he fought off illness and sweltering temperatures to claim silver in the men's road race.
Aided by a superb display of team-riding by his compatriots, Roulston featured in a dramatic sprint home, in which he was denied on the line by Australian Allan Davis.
He revealed afterwards that he had spent the past two days in bed with bad flu symptoms and had contemplated scratching.
"But it's basically my last race of the year so it was all or nothing."
Chalaev moved to New Zealand when he was 12, and took up weightlifting to maintain a link with the land of his birth.
"It means a lot to me," he said, after achieving a personal best total of 334kg in the men's 105kg division.
"It's my first games and to get the silver I'm so happy."
By day's end, New Zealand's medal tally stood at 23, made up of two gold, 16 silver and five bronze.
Cyclist Joanne Kiesanowski almost added another in the women's road race, coming fourth in a bunch finish headed by another Australian, Rochelle Gilmore.
The Black Sticks hockey men stayed alive in their medal hunt, but only just, needing a Hayden Shaw goal four minutes from time to rescue a 1-1 draw against Canada and make the semifinals.
But if that was nerve-wracking, it was the easy bit.
They now face world No 1 Australia, who have already won this year's two biggest tournaments -- the World Cup and Champions Trophy - and who cruised through their pool.
There has been nothing so dramatic about the progress of Jaclyn Hawkes and Joelle King through the early stages of the women's doubles squash event.
They took just 14 minutes to get past Scots Lisa Aitken and Frania Gillen-Buchert to secure a quarterfinal spot.
Their win over Guernsey yesterday lasted eight minutes.
On the athletics track, sprinter Monique Williams found herself caught up in controversy as she prepared for the final of the 200m after finishing second in her semifinal.
A series of protests and counter protests over whether fastest qualifier Eleni Artymata of Cyprus had the touched the line on the inside of her lane couldn't be resolved in time, so the final was put off until tomorrow.
Combative sports bowed out with the defeat of young boxer Joseph Parker and 40-year-old 120kg class wrestler Nick Lane, who had the misfortune to run into the gold medallist and the bronze medallist in the same day.
- NZPA