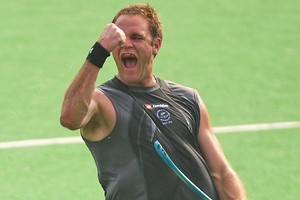 The Black Sticks might be best to take the advice of Th' Dudes party anthem 'Bliss', which played over the public address system before their final pool match with Canada at the Commonwealth Games in Delhi.
Forget about the last one, get yourself another. That's what they need to contemplate ahead of Tuesday's semi-final at the Commonwealth Games.
The team were lacklustre in the 1-1 draw with Canada. It compared poorly to their better form earlier in the tournament with wins over South Africa and Trinidad and Tobago.
Hayden Shaw saved the Black Sticks' honour, scoring with three minutes to play. He promptly booted his stick into the air in elation. It came as the team made the daring decision to rest goal-keeper Kyle Pontifex to enable more attack up front.
Coach Shane McLeod said it was a plan that worked perfectly. Shaw took the penalty, weaved around an oncoming defender and drove the ball home.
"t was a toss of the coin [taking off Pontifex] but it was an educated move and it paid off. That's what Hayden does best: analysing opposition defences. It was a move we'd been working on for a long time and I thought we'd save it for a special moment."
Shaw agreed: "There was no way Canada was trying to attack at 1-nil up so it was a bold call but we were prepared because we had done it [dropped a goalkeeper] in a practice game in Kuala Lumpur.
"I just love being in those pressure situations. When I went to the side of the pitch to get the call [to do the penalty] I just wanted it.
He said it was a pre-determined fake: "The first player came out to play the ball and I knew if I dodged his stick I'd have a free shot."
The Kiwis lacked that Shaw-type composure for the most part. Their cries of anguish got louder as the match progressed. Steve Edwards ten-minute sin-binning, with 11 minutes to go, didn't help.
Pontifex had to produce some sterling work in goal to repel a vigorous Canadian charge, particularly when they took a 1-0 lead into halftime.
He also faced severe scrutiny for a three-minute period, five minutes into the second half.
England topped the pool after defeating South Africa 2-1 in the earlier match. New Zealand is likely to meet gold medal favourites Australia in Tuesday's semi-finals, provided the defending Games champions beat Malaysia in their final pool match.
Canada has been a tough proposition at times with previous results that included another 1-1 draw with England. They meant business right from the start too, with one player bellowing "C'mon boys, let's do this" before the final bar of their national anthem had finished.
McLeod said the Canadians played what he referred to as "anti-hockey" at times.
"They are masters of the '1-0 up' game and have beaten teams doing that in the past, like Argentina. It is difficult to play against."
Sukhwinder Singh scored Canada's goal in the 20th minute and narrowly missed another in the 18th minute of the second half when the ball went into the goal but was struck from outside the circle.
New Zealand had other chances too. Shea McAleese's shot in the third minute of the second half was barely deflected by Canadian goalkeeper Antoni Kindler. Captain Phil Burrows also could not convert after a desperate flail for the ball, again with Kindler, inside the final quarter of an hour.