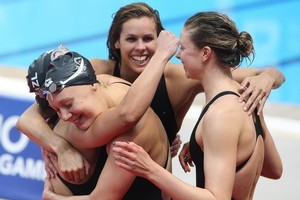 Over-the-top enthusiasm is not New Zealand head swimming coach Mark Regan's way.
Yet, he found plenty to like in the performances of his squad at the Commonwealth Games swim meet.
Six medals are a decent return, matching that of Melbourne four years ago and four up on Manchester in 2002, and one behind their best Games haul of 1994.
Straight-talking Australian Regan is big on process. Get that right and good things will follow.
His firm view is that the foundation must first be in place before swimmers get stars in their eyes.
He hopes the learning process has taken a significant step forward with the experiences his swimmers have had over the past week.
"The most pleasing aspect for me is some of our athletes have been put in different situations by being in the middle lanes [meaning faster qualifying times], so that adds to the experience of what they're trying to do," he said.
"As a team they're coming together quite well and they'll walk away probably not as fearful of the [swimming] world as when they came here."
A host of national records were broken, but that was to be expected.
Pick of the performances?
Wellington backstroker Gareth Kean's silver medal was New Zealand's first of the meet, and came from lane eight, which is rare. His time of 1min 57.37s was a national record, and enough to bump him up to No 9 on rankings for the event this year.
Breaststroker Glenn Snyders and backstroker Melissa Ingram both set Games records, only to have them overtaken soon after.
The women's 4 x 200m relay are eighth fastest this year and the quartet of Lauren Boyle, Penny Marshall, Amaka Gessler and Natasha Hind took a good chomp out of their own national record.
"I've said from the day I arrived, we've got some very talented swimmers. They may not have seen in the mirror what I saw. Now they're starting to see that. Things are looking bright."
Not everything was rosy and the disappointments came in a variety of ways.
Ingram was perfectly positioned to make a grab for gold in the 200m backstroke, having set a Games mark in the morning heats. But she tied up in the last 50m and trailed in seventh.
Natalie Wiegersma had a setback of a different kind, missing a bronze by .03s in the 200m individual medley and finding it a crushing moment.
Daniel Bell, too, was a sliver away from bronze in the 50m final, .06 behind the third placegetter. But by his own admission he's more mature than a couple of years ago, and he took it on the chin and moved on. His reward came with a silver in the 100m final.
Lauren Boyle qualified fastest for the 400m freestyle. She went almost a second quicker in the final, trimming her own national record to 4min 09.45s, yet still finished fifth.
Regan observed the way the swimmers handled a mix of trying situations, and generally liked what he saw.
"People forget that when you do your best is when you're having a good time and are relaxed and stop thinking about results," Regan said.
"Results come after the process."
Pool haul
Silver
Gareth Kean (200m backstroke).
Daniel Bell (100m backstroke).
4 x 200m freestyle (Lauren Boyle, Penny Marshall, Amaka Gessler, Natasha Hind).
Glenn Snyders (50m breaststroke)
Bronze
Hayley Palmer (50m freestyle).
4 x 100m freestyle (Hayley Palmer, Marshall, Gessler, Hind).