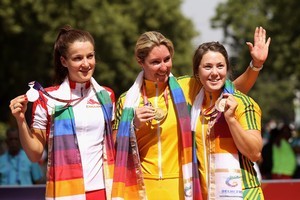 There's a strangely addictive website where you see India's population clock tick over based on birth and death rates in this vast, fascinating country.
Logging on at 8.25pm local time yesterday, India's estimated population went from 1,161,432,733 to 1,161,432,762 by 8.26pm. When you extrapolate that rapid growth out to weeks, months and years it becomes mind-boggling for a resident of a country of 4.38 million people.
There's another counter in India that appears to be ticking over almost as fast - Australia's medal tally.
Midway through day seven of competition, their tally had reached 120 with 56 of them the most lustrous colour of them all.
By odious comparison, New Zealand were stalled on 21 with two - two - golds.
Cue talkback howls of indignation and commencement of our second national sport - complaining that Australia is better at sport than us.
But back to population for a minute. Australia's is 22.48 million, about five Ockers to one Kiwi.
You will hear people argue that on the basis of a simple calculation, we should be sitting on about 24 medals with 11 golds, roughly a fifth of their haul (in which case India should be sitting on about 2900 golds).
Thankfully sport is not as bloodless as arithmetic.
A more relevant reason our gold comparison is poor is because we play the same sports they play, a result of our proximity and shared heritage. Generally speaking, the sports we're good at, they're good at too.
That was perfectly illustrated at the velodrome, where New Zealand picked up nine medals, the most the track cyclists have ever won at a Commonwealth Games - but only one of them was gold.
In every event bar one that New Zealand minor-medalled, the winner was wearing green and gold.
BikeNZ had an excellent track team who, almost to a man, woman and teenager, performed well. But it proved Australia needed only to be fractionally better to destroy our gold medal haul.
What it didn't prove was that our high-performance programmes are up the spout and in need of an overhaul.
New Zealand will continue to produce celebrated champions and will also continue to produce countless athletes to be beaten by Australians.
It's not fatalism, it's reality.
The only thing more certain is that by the time these Games are over, there'll be a few thousand more Indians.
* Watch India's population tick over at medindia.net/patients/calculators/pop-clock.asp