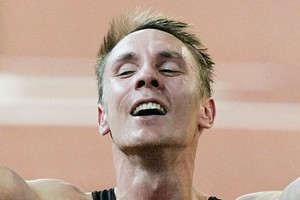 A "humbled" Nick Willis takes to the track tonight to defend the 1500m title he won four years ago in Melbourne.
The Wellingtonian, who is now based in the US, was regaining form after knee surgery but suffered a setback in his last race before the Commonwealth Games.
Willis, 27, finished a despondent sixth in New York's Fifth Avenue Mile. But it could be the best thing that has happened to him.
"Training had gone really well, I had done some good races in Italy and expected things to continue to go up and up.
"There's no other way to explain it than to say I didn't have it and those guys were better than me on the day.
"It humbled me. I was getting a little over-confident, a little arrogant. I was finishing my workouts and going, 'Is that all you've got Ronnie?'," he said, referring to coach Ron Warhurst.
"That has put me back in a more humble mindset going into this, to respect my opposition."
Training in Hong Kong during the past week with his "Coach No 2", wife Sierra, provided some catharsis and Willis has now taken inspiration from the performance of the athletics team in Delhi, particularly Nikki Hamblin.
"It's an individual sport. You're on the line and you're the only one that can take care of business, so to speak, but when you come together as a team you really feed off everyone else's results," Willis said. "It's like, 'If Nikki [Hamblin] can do that and Val [Adams] can do that and Brent [Newdick] can do that, so can I.' You feed off their energy. It becomes infectious.
"Especially in my event, with Nikki running so well, it was just so exciting to watch. We shouted the roof down".
Willis has used the training base in Hong Kong to hone his speed and regain the kick he lost somewhere along Fifth Avenue. "With the delayed preparation due to the surgery ... we had to work on my endurance, my base fitness. I had a good opportunity in the heat [of Hong Kong] to work on my speed and that's coming along nicely," he said, admitting that it was only five weeks ago that he decided to definitely attend.
Willis said the field for the 1500m was top heavy and he expected the biggest threats to come from Kenya and England.
"There's five or six guys who would have a shot at being Olympic finalists on any given year, then there's five or six solid runners and then it drops off pretty quickly after that."
Olympic champion Eliud Kipchoge was a late withdrawal, but whizzkid Silas Kiplagat has run 3m 29s this year, three seconds faster than Willis has ever run. "He's quite new to the scene. There's a little bit of an unknown commodity with him," Willis said, also warning of the quality of Tom Lancashire and Andrew Baddeley.
Championship finals tend to be tactical affairs, something he believes could play into his and compatriot Adrian Blincoe's hands.
"I really enjoy the championship style of racing. It comes down to positioning, confidence, poise and picking your moment to strike. "To win a gold I'm going to have to do that exactly right."