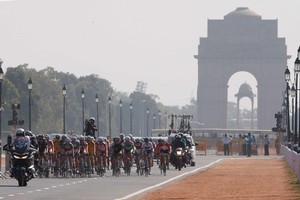 New Zealand launched the attacks but it was again the Aussies who were left with the spoils in cycling's 112km women's road race on the heavily-fortified streets of downtown New Delhi yesterday.
Australia's Rochelle Gilmore won a sprint finish to take gold, finishing in 2h 49m 30s, biding her time in the pack on the pancake-flat course which made a bunch burst over the final 500m almost a foregone conclusion.
Gilmore timed her sprint to perfection, holding off England's Elizabeth Armistead, who was just in front of Australia's Chloe Hosking.
New Zealand tried to split the 40-strong main bunch by launching wave after wave of attack but came up short, with only Joanne Kiesanowski, who earlier in the week won silver in the women's point race on the track, showing up in the pack sprint.
She was pipped for bronze by little more than a bike length by Hosking, with Kiesanowski's teammates Melissa Holt and Kaytee Boyd finishing ninth and 11th.
Also recording the same official time were Rushlee Buchanan in 23rd, Catherine Cheatley 25th and Linda Villumsen 26th.
Had Kiesanowski held on it would have been New Zealand's first medal in a Commonwealth Games road race since Suzy Pryde at Kuala Lumpur 12 years ago. Visibly upset at missing out on the podium after being set up for the sprint by her hard-working teammates, Kiesanowski said it was a tough day to try to upset the other teams intent on a mass sprint.
"The plan was for the girls to drag me home by attacking and making the race hard for other teams, but it was apparent the other top teams were content for a bunch sprint. We kept looking for the breakaway at the right time and with the right numbers, but if it came down to a bunch sprint we were still confident I could get there and podium."
Just about every break in the race was made by a New Zealander, with Villumsen attacking in just the third lap, but the rest of the field was happy to cover every move.
Entering the last of the race's eight 14km circuits, first Boyd, then Cheatley broke away, with Cheatley, 11th at last month's world road champs in Melbourne, going solo with 1km to ride, although she too was hauled in.
Cheatley said it was a frustrating race that played right out of their plans.
"We were wanting to animate it but most teams seemed content for a sprint finish, which can be a lottery.
"We went as quick as we could and gave it everything, but road cycling's a bit like chess and today we didn't have enough at the end to make the podium."