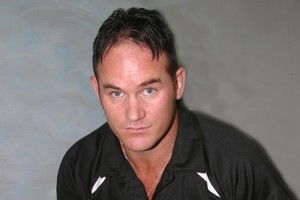 Hamilton Wrestler Aaron Quinlan didn't win a medal - but he wins the prize for the gutsiest Commonwealth Games display by wrestling after having an eyeball pushed back into his skull and his retina cut in three places.
Quinlan's Games are now over, although after what the Hamilton tiler has endured this week, it is surprising he competed at all.
Quinlan, 36, was lucky to get on the mat at all at the Indira Ghandi complex after his left eyeball was pushed deep into his skull during a training accident midweek - and then his eye was clobbered again.
Grappling with Kiwi teammate Andrei Paulet, he copped a stray finger in his left eye socket, cutting his retina in three places and also incurring heavy bruising. Kiwi team doctors were called, who referred Quinlan to a Delhi eye specialist. His maimed eye was bandaged heavily and he was off training the next few days.
Head coach Mark Grayling said the injury was a cruel blow for the highly-rated heavyweight, who won the Oceania championship to qualify.
"He's gutted after coming here with such high hopes, but there's no way he was going to travel all this way and not get on the mat and wrestle today."
Quinlan, the six-strong New Zealand team's main hope for a medal, was eliminated from the 96kg freestyle class yesterday, losing his first fight 9-1 to South African Etienne van Huyssteen.
Hopes of contesting a repechage to get into the bronze medal position died when the South African dipped out in his next fight.
Within seconds of his first heat starting, Quinlan caught a stray van Huyssteen finger in his injured eye socket, blurring his vision.
"That's no excuse, and it should have given him a wake-up call," Grayling said.
"It's not darts we're playing here, you don't need your sight to wrestle."
Quinlan is no stranger to training map mishaps. Last year, while training with Grayling in Tauranga, he performed a throw that left the national coach on crutches for months nursing torn ankle ligaments.
With Quinlan gone and female wrestler Sian Law well beaten, Kiwi hopes lie with Paulet (under-66kg), Stephen Hill (under-84kg) and Nick Lane (under-120kg) today.