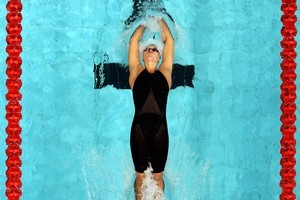 Swimming New Zealand may have kept its head above water for continued Sparc funding - for the time being - with a stronger performance at the Delhi Commonwealth Games.
The sport came in for serious criticism after the Beijing Olympics and when the last round of handouts were dished out when it remained one of the country's six best-funded Olympic sports.
SNZ was awarded $1.35 million to invest this year at the Commonwealth Games and work towards Olympic medals.
Swimming was the only one of the premier, targeted half dozen sports not to win a medal at the Beijing Olympics.
In Melbourne in 2006, Moss Burmester won a popular Commonwealth games gold but the six-medal tally from the pool was generally regarded as less than expected even though it was only one behind the Games record of seven.
In Delhi, however, there have been six medals, with more silvers, from more swimmers in more strokes - signalling there are candidates who could develop towards the London 2012 Olympics.
Gold medals have remained elusive. Most of those have become Australian property. A new Olympic champion in the mould of Danyon Loader seems a far-fetched proposition.
Swimming went into a lull after the retirement of the Atlanta double gold medallist and has struggled since 1994 at Commonwealth level.
Burmester's gold in the Melbourne 200 metres butterfly has been the only time a New Zealander has topped the podium during that period.
But four silver and two bronze medals ahead of the final day's competition suggests they are making progress with more prospects overnight.
Part of that success can be attributed to the hiring of head coach Mark Regan. He was brought over from Australia last year while the team's veteran mentor Jan Cameron moved into administration as head of 'performance and pathways'.
Regan says: "I'm more interested in getting athletes in the middle lanes of finals because results flow from there.
"I am trying to teach the squad to handle pressure, getting each person to work out they're as good or comparable to anyone else in their field.
"It's about instilling that belief and boosting their confidence. The more times they are exposed under pressure then the more capable they become out of their comfort zone.
"I believe we're getting incremental and steady improvements proven by a lot of finals here and at the Pan Pacs [pan-Pacific championships].
"They've had a couple of Commonwealth Games records and several national records. They should be proud of themselves - but let's not build them up too much, they're not superstars."
Sparc high performance general manager Martin Toomey says SNZ has improved its results of late but they need to be put into context when it comes to forking out more.
"Swimming has had a strong meet with plenty of medals and finalists among a young squad. But when it comes to funding we need to look at teams relative to the world's best which include strong European nations and the United States.
"We don't want to give the athletes a false sense of security and would look to gauge their achievements at a better quality meet [like next year's world championships].
"They have put themselves in contention [at Delhi] with a number of personal bests as well as New Zealand and Commonwealth records."
Freestyler Hayley Palmer (21), breaststroker Glenn Snyders (23) and backstrokers Daniel Bell (20) and Gareth Kean (19) have shown the most promise.