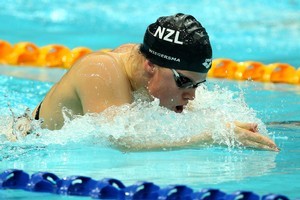 The dreaded 'Delhi belly' affected the New Zealand swim team late last night with medley swimmer Natalie Wiegersma pulling out of her final with a stomach bug.
Swimmers from other countries continued to complain of queasy stomachs on the final day of competition at the Commonwealth Games pool. Nothing has been proven from water tests but a disproportionate number of swimmers have experienced varying forms of 'Delhi belly' at the Games.
That included Wiegersma's scratching from the final after she qualified as eighth-fastest - a surprise development, as previously Kiwi head coach Mark Regan had denied any illness in the New Zealand camp.
Asked if Wiegersma had been struggling with illness in her heat of the 400m individual medley, he denied such speculation although admitted there had been the odd bug.
"You tell me, it's the first I've heard of it," said Regan. "I'm actually really proud of the way our athletes have been real smart with hygiene and eaten sensibly. Anything anyone has had has only been for 12-24 hours, then they were fine. It can be the result of the simplest thing, like washing your toothbrush under the tap."
Yesterday, 100m Kiwi backstroke silver medallist Daniel Bell said he had been afflicted by an upset stomach for the last couple of days but dismissed it as an excuse. He said it had been keeping him up at night but did not blame the pool water because the chlorine content should kill any bugs.
Regan's comment were also odd as TV commentator Jan Cameron had mentioned Wiegersma might be struggling with her health during her 400m medley heat. A few hours after Regan had denied knowledge of any illness in the camp, Wiegersma scratched from the final with an official statement quoting Regan as saying: "She was looking forward to this race but there is no point her competing in her current condition."
Swimmers from England, Australia and Canada have also been afflicted.
Canadian swimmer Brent Hayden, who won the 100m freestyle, was quoted in his country's press as saying he suffered but was "comfortable being uncomfortable". Other Canadian swimmers were dealing with gastro bugs and diarrhoea.
British media reported on Thursday that 20 per cent of the England team's swimmers - around 10 competitors - had been struck down with a stomach virus.
Steve Moneghetti, Australia's chef de mission, said that more than 12 Australian swimmers out of the squad of about 50 had complained of stomach troubles, the ABC reported. Australian swimmers Andrew Lauterstein and Hayden Stoeckel pulled out of their respective heats, the ABC added.
English swimmer Fran Halsall blamed what she described as 'Delhi belly' for her failure to qualify for the 100m butterfly final after she won the gold medal in the 50m event the day before. She then qualified fastest in her 50m freestyle heat earlier this week.
"I'm glad I got in this morning and did it because I don't feel 100 per cent still but the doc reckons it could just be a 24-hour thing," Halsall told the BBC. "We are battling on."
The England team's official statement said of the 541 England team members staying in the games village, 8 per cent had at some stage developed mild stomach conditions.
"These levels are lower than we expected coming into this environment," it said.
Regan believed the pool is an easy target for blame: "There are eight starting blocks, it is the same as every other pool. People are making a big deal about it but there's no evidence as far as I'm aware. Too many people are concerned about things they can't control."
In the pool, New Zealand swim team members were waiting to see Glenn Snyders in his 200m breaststroke final held overnight. He sneaked into the finals on time alone, rather than claiming an automatic spot. Snyders finished in 2m14s to take the eighth qualifying spot.
"We'll take it," Regan said. "Glenn is not a 200m breaststroker by nature. He's a sprinter. I'm making him do it to help him in the 100m event."