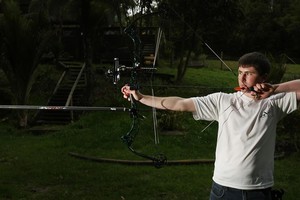 Top-ranked Commonwealth archer Shaun Teasdale was a contrast of demeanours as he lost his bronze medal match in Delhi last night.
When shooting at the target, the 21-year-old was a model of composure but he stormed from the arena distraught after finishing fourth. He lost in five sets to South African Septimus Cilliers. He dropped just two points but it was enough to dissolve any dreams of a medal.
To his eventual credit, an inconsolable Teasdale returned to talk about his loss. It took some coaxing from team manager Shane Switzer. The tournament favourite said he was gutted.
"Someone's got to come fourth and unfortunately that's got to be me. I shot pretty well but I'm just disappointed I didn't shoot better than my opponent. I was calm out there but I didn't judge the weather a couple of times so didn't get the points I needed."
The competitors battled a brisk breeze and tilted their bows accordingly, effecting what in golfing parlance would be known as a fade.
"It was still where I was standing but gusty further down. I was gauging it from the flag on the top of the target. When it blew, you just hoped for the best."
Teasdale also summed up his performance: "One day you will shoot like absolute shit and the next they don't go anywhere but the middle."
In an intimate amphitheatre of about 300 people within the Yamuna Sports Complex in the outer suburbs, Teasdale had earlier held his nerve in the quarter-final with a straight sets win over Namibian Johannes Grobler.
Then he dropped a crucial couple of shots against England's Duncan Busby to lose in four sets and drop into the third-place playoff.
The 21-year-old was the first New Zealander in 28 years to play for a medal - the length of time that has passed since archery featured at a Commonwealth Games. Kiwi Neroli Fairhall won gold from her wheelchair in the only other time the sport has featured at this level, back in Brisbane.
Teasdale's outer calm never wavered in front of the spectators, despite wearing a black shirt and pants to protect his sensitive skin from the 33-degree sun. He maintained a steady rhythm, removing arrows from his quiver and consistently thumped the target in and around the bullseye.
In a touch of support, team-mate Steve Clifton stood behind the line - much like a golfing caddy - offering advice between shots. Clifton bowed out in the round of 16.
The world No 6 appreciated Clifton's support: "He was doing the same for me in Shanghai. He's the best person to have behind the line. Steve knows how to call it and how I shoot so if I stuff up, he's honest enough to tell me."
Teasdale has been in fine form over the last few months. He won the last of the four World Cups contested this year in Shanghai and competed at the World Cup final in Edinburgh, pitting this year's eight best archers against each other.
While other sports have endured weakend fields, the Kiwi team has admitted to being surprised at the high level of competition they have faced in Delhi.
New Zealand was touted as a strong medal contender in the compound individual and team disciplines with two of the top three individuals in the Commonwealth - Teasdale and Clifton. Tony Waddick was the other member when they entered the team event and finished fourth, losing to India by a solitary point 226-225.
"The nature of the competition has been more cut-throat than we thought," said manager Switzer.