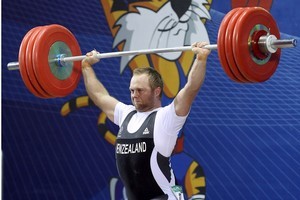 Weightlifter Richard Patterson carried something pretty special to the stage for the 85kg final on Friday - a personal message of good luck from Santa Claus.
No longer do you have to worry about children losing a chunk of their innocence when they find out he is not quite the chimney sweep they think he is. He's real - and Patterson can prove it.
The 27-year-old from Counties has spent the past four months working with Finnish coach Ari Moilanen in a town called Rovaniemi. It's regarded as the 'official' town of Santa Claus and the mayor has assumed the mantle of the big bloke in the red suit (although he doesn't dress the part).
"It's in Lapland, in the Arctic Circle, about as far from New Zealand as you can get," Patterson said. "I've been to the official Santa's village and he sent me a good luck message. I go and see him every year and there's not many New Zealanders who do that, so he remembered me and sent me a message."
Blessed by the great man, Patterson received the second-best gift he could have wished for. But for one error in the clean and jerk, he might have been strutting around the Games village wearing gold.
With mother Julia and sister Amy in the crowd, Patterson battled Australian Simplice Ribouem.
"I knew what he was capable of and he knew what I could do. He looks like a monster but he's bit a gentle giant. He's a nice guy, but he's full of muscles, that's for sure."
Patterson believed a 150kg snatch combined with a 190kg clean and jerk would win him gold. He achieved the first part. "I lifted 150kg, which is a New Zealand record. It stuck, I was pretty happy with that. I'm usually saying things that help me focus my technique, but the last thing I said before I lifted was 'if I can't do this I don't deserve to be here'.
"Unfortunately I missed my first clean and jerk so that put me on the back foot. I then stuck 181kg and he came in one kilo heavier.
"I could have come in on the same weight and matched him because I was leading on body weight, but I knew he would just come in one kilo above that and it would be too much of an easy win, so I knew I had to go big. We put on 189kg, because 190kg plays with the Australian's head, and it was a play for the gold, really.
"I cleaned it, but rocked back on my heels a little bit. The jerk was in the wrong spot, so ... one of the elbows didn't quite lock."
Patterson said he would have taken more time to set his jerk, but the trade-off is loss of momentum.
After Melbourne, Patterson set his mind on gold and has since lived for weightlifting.
Manchester 2002 gold medal lifter Nigel Avery hooked him up with Tony Ebert, who won gold in 1974. They've supported Patterson, with another couple of contributors, over the past four years. His parents bought a house so he could live in Auckland rent free.
An apartment was bought for him in Finland so he could spend the past four months working with his head coach Moilanen.
"There's a lot of investment that has gone into this silver medal.When you want something so badly, falling at the final hurdle can often hurt more than getting nowhere near."
Still, if he needed a pick-me-up, it didn't take long to arrive.
"Standing on the podium I wasn't paying any attention to the Australian flag, I was just watching the New Zealand flag go up. It put a smile on my face."