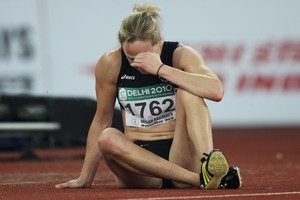 Pain and anguish were unwelcome visitors for New Zealand heptathlete Rebecca Wardell, forced out with a foot injury at Jawaharlal Nehru stadium.
Wardell, who finished seventh at the 2006 Melbourne Commonwealth Games and competed at the Beijing Olympics, twisted her foot on the 200m turn. Scans showed a hairline fracture between the second and third metatarsals on her foot. She was stretchered from the stadium and is now hobbling around on crutches.
"I am utterly devastated," she told the Herald on Sunday. "I was in a reasonable groove and I was using the race to catch up more points to get further into medal contention."
The 32-year-old was sitting fourth and shaped as a contender to take New Zealand's fourth track and field medal. Wardell started in the 100m hurdles with what she considered a poor time of 14.18s which saw her fifth but she was pleased with her second best high jump of all time (1.69m). She went back into fourth with a 14.64m shot put, blitzing the field.
Adding to the disappointment is the fact Wardell was one of the most vocal supporters of attending the Games when Delhi's hosting capabilities were in limbo courtesy of security, hygiene and logistical problems. She claimed the risk of terrorism was standard in any big city of the world and that failing to attend meant the terrorists would win.
The pain in her foot started two weeks ago in Cairns but an MRI scan in Hong Kong - where she built up for the Games - cleared her.
"I felt it was just a matter of managing the pain. I felt in fantastic shape, especially with my favoured events like the javelin and 800m to come."
Wardell at least had the support of her parents. She spoke to them across the demarcation line between the athletes' village and the international zone yesterday morning.
She says she is undecided whether she wants to continue in the sport.
"I want to finish on a high. It would be awful to end it here."
Wardell had intended to stay until October 15, a day after the Games end. She now intends to leave tomorrow.