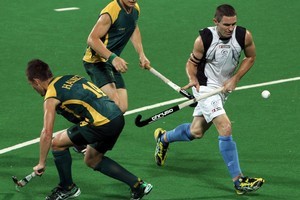 Phil Burrows has become New Zealand men's hockey's most-capped international - but the stand-in skipper would gladly toss the mantle back Ryan Archibald's way if it meant reversing yesterday's crucial Commonwealth Games loss to England in pool play.
The 5-3 loss, the Black Sticks' first of the tournament in Delhi, leaves them in a three-way logjam with England and South Africa for two semifinal spots ahead of their last pool game today against Canada. England play South Africa in their last preliminary.
England, who went into yesterday's game on the back of a surprise 1-1 draw with Canada, now lead the pool on seven points, with the Black Sticks and South Africans locked together on six.
A draw would likely be enough for New Zealand to advance, but it would also pit them against Australia in a semifinal showdown.
Neither team did enough to indicate the Hockeyroos will be seriously threatened in their stroll to gold.
Playing Australia ahead of the gold medal match is a scenario Burrows, who took over as skipper after Ryan Archibald opted out of travelling to Delhi, is desperate to avoid.
The 30-year-old Wellingtonian played his 252nd match for New Zealand to push one ahead of Archibald in the all-time list.
"It's a pretty proud moment but I'd definitely trade it for a win. [The loss] has meant the noose has tightened, which is good for the pool. England are the ones with a big tough game ahead because if South Africa beat them they'll go through.
"We need to win against Canada because none of us want to miss out on a semifinal. If we meet Australia then, that's fine, but I couldn't handle losing tomorrow and not having a chance at anything."
The match, which started in early morning haze that soon gave way to another typical Delhi scorcher, started to unravel early for the under-pressure Black Sticks, who gained little traction up front and even fewer favours from whistle-happy umpire Peter White, who copped several gobfulls from both teams for over-zealousness.
England striker James Tindall netted a hat-trick, the opener from the edge of the area after the Kiwi defence was caught flat-footed, before Burrows levelled with a disputed scrambled effort that may have been disallowed had hockey's video referral system - standard everywhere except, it seems, in Delhi - been in use.
Tindall's second came after Dean Couzins was dispossessed in front of goal, with penalty corner maestro Richard Mantell increasing the lead.
But the Black Sticks boast a set-piece master of their own, with Hayden Shaw cutting the gap to one a minute before halftime before England kicked clear once again through midfielder Rob Moore.
England seemingly procured a copy of the Sticks' playbook at halftime, dominating through the middle and robust at the back, with their march to victory aided when White sent Hayden Shaw from the field for 10 minutes for a body check.
Burrows was livid with the yellow card call, especially with Tindall scoring while the big defender was off.
"I thought he [White] was calling us off the pitch for some reason, I had no idea what was going on."
He was also angry at White blowing twice on his whistle before England's first goal, with the confused Black Sticks stopping to see what was going on. "Everyone stops, wondering what the hell is going on, and they score a play-on goal. You'd expect more."
Another penalty stroke to Shaw completed New Zealand's scoring, but it's the chances they failed to create rather than the few they finished that could hurt later on in the tournament.
Queried why there was such a deliberate play to avoid Australia, New Zealand coach Shane McLeod said it was commonsense.
"That's just the reality here. Australia are trucking on well and doing some good things, although the other semi could mean playing India in these conditions at home, which is no picnic either."