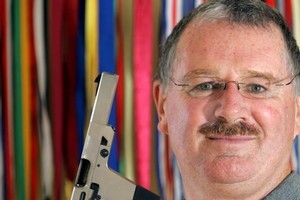 New Delhi - Auckland shooter Greg Yelavich has won his 12th Commonwealth Games medal after combining with Alan Earle in New Delhi today to win silver in the pairs 25m centrefire pistol.
Yelavich and Earle totalled 1140 points in the shoot at the Dr Karni Singh range, with Indian pair Vijay Kumar and Harpet Singh taking the gold medal on 1159.
The New Zealand pair held off Singapore's Bin Gai and Lip Meng Poh (1139) to grab the silver.
Yelavich now has 12 Games medals -- two gold, five silver and five bronze, after winning his first at Edinburgh in 1986.
Competing in his seventh Commonwealth Games, he was already the most medalled New Zealander in history.
The New Zealand pair combined well, with Yelavich notching 574 points from a possible 600 - the equal third best individual score - and Earle 566.
They bounced back from a horror opening stage when their combined 375 from 400 had them back in sixth equal place, trailing India (384), with Singapore, Canada and Pakistan on 382, and Malaysia on 376.
With two of the three brackets shot , New Zealand were fifth equal.
A brilliant final bracket of 386 saw Yelavich and Earle overtake Singapore, Canada and Pakistan to claim an unlikely silver
Shooting manager Gavin Paton described the effort to NZPA as "awesome".
- NZPA