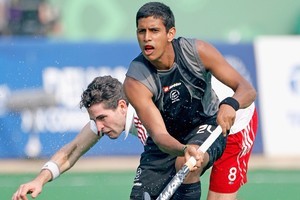 New Delhi - New Zealand are locked in a three-way dogfight for the semifinals after losing a crucial Commonwealth Games men's hockey pool match 5-3 to England today.
The penalty corner prowess of Hayden Shaw kept New Zealand in the hunt throughout an exciting match but England emerged deserved winners to go top of pool B.
Entering tomorrow's last round of matches, England are on seven points while New Zealand -- who suffered their first defeat -- and South Africa sit level on six.
England and South Africa play each other while New Zealand face Canada, a lower ranked side who were nonetheless good enough to draw 1-1 with England this week.
A draw would probably be enough for New Zealand to advance to the semifinals although they will want to make sure of things. Also, finishing first in the group will probably mean they avoid a treacherous semifinal against Australia.
The Black Sticks struggled to match the vitality of a slick England side in sweltering conditions this morning.
Unlike their comfortable wins over Trinidad and Tobago and South Africa, New Zealand didn't get their way in the middle of the turf and it was England who created more chances.
Striker James Tindall scored a hat-trick while New Zealand's chief weapon was Shaw, who converted two of his team's four penalty corners and came painfully close with another.
New Zealand's players struggled with many of the rulings, prompting captain Phil Burrows and Simon Child to have a lengthy chat with officials after the halftime horn blared.
The first goal came courtesy of a Tindall blast from the right to open the scoring for England, followed by a response from Burrows after a goalmouth scramble.
Tindall grabbed his second when Dean Couzins failed to clear from a dangerous spot, before England's Richard Mantell made it 3-1 from a penalty corner.
Shaw reduced the deficit to one at halftime but England reopened their buffer with half an hour to play courtesy of the goal of the match, a diving deflection from impressive midfielder Rob Moore.
Another penalty strike to Shaw was trumped by powerful drive from Tindall for his third to secure the result.
England 5 New Zealand 3 (Hayden Shaw 2, Phil Burrows). Halftime: 3-2.
- NZPA